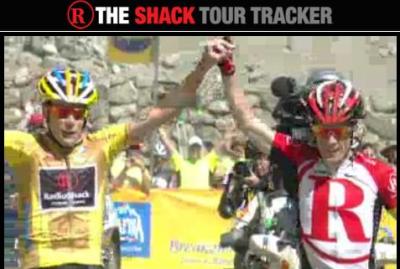 Here's a sight that not many would have predicted when bike race organizers announced the most difficult mountain stage ever in the Amgen Tour of California:
Three-time champion Levi Leipheimer setting the pace for yellow jersey leader Chris Horner in the final kilometers to the finish on Mount Baldy.
Their RadioShack teammates had destroyed the field by setting a high pace throughout the 80-mile Stage 7, and the last rivals had dropped off the back before Leipheimer and Horner rolled across the finish line with a victory salute.
Unless something goes horribly wrong in the final Stage 8, Horner looks to be assured of a victory ….