When:
2019-04-20T00:00:00-07:00
2019-04-21T00:00:00-07:00
Where:
Lakewood Park
11050 10th Ave. SW
Seattle WA 98146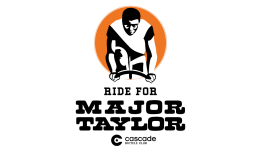 The Major Taylor Project is a year-round, youth development cycling program focused on introducing youth from diverse communities to the recreation of cycling and creating an inclusive culture of bicycling that will continue to future generations. The Major Taylor Project currently serves 17 schools in Puget Sound region; ten schools in Seattle, six schools in Tacoma, and one school in Puyallup.
Ride for Major Taylor is a unique 63-mile urban journey through White Center, Burien, Normandy Park, Des Moines, Federal Way, Tacoma, and Vashon Island.