When:
2019-05-19T00:00:00-07:00
2019-05-20T00:00:00-07:00
Where:
Yakima or Ellensburg

$50 per person – includes 1 free t-shirt if pre-registered

$85 per family (2 adults + up to 2 children under 18 living in same household); a family registration includes up to 2 free t-shirts if pre-registered

No refunds and no IOU's available

Light snacks and water provided

Event t-shirts available for purchase

Concessions available for purchase at Roza Site

Bicycle maintenance available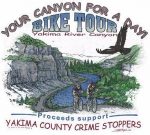 A 35-mile round trip ride through the scenic Yakima River Canyon. The road follows the Yakima River up a gentle grade with few hills.
The highway will be closed to thru traffic.   A perfect ride for the whole family!
Those who register on-line on or before May 1st, 2019 are eligible for the free t-shirt offer and will be mailed pre-registration packets that include vouchers for free t-shirt(s) and ride number(s). Note: if you are pre-registered and do not receive your pre-registration packet before the ride, please go to one of the registration sites on the day of the ride.
Online registrations received after May 1 are not eligible for the free t-shirt(s) offer and must pick up their registration packet including ride number(s) at one of the on-site registrations on the day of the ride. There will also be registration on the day of the ride at the Ellensburg and Yakima start areas and t-shirts available for purchase at the Roza Site for those who do not pre-register.
NO DEBIT/CREDIT SALES ON DAY OF RIDE (we don't have wifi in The Canyon). Please bring cash or a check on the day of the ride for same day registrations.
If you have any questions or are interested in sponsoring our event, please email us at strommes@msn.com.