2019
Gigantic Bicycle Festival — June 2020 (dates to be announced) The celebration of bicycle culture sets up in Centennial Park in Snoqualmie. Features camping, bike builders, music, outdoor films Friday night, art & installation, a century and a 50 mile bike ride, cyclocross, a family Sunday ride to Bybee Blueberry Farm and more.
Apple Century Bike Ride — June 1, 2019 The 100-mile bike ride starts at Walla Walla Point Park in Wenatchee and continues up to the turnaround at Nason Creek Campground on Lake Wenatchee; sponsored by Wenatchee Sunrise Rotary #
Flying Wheels — June 1, 2019 Several cycling options in the largest bike century event in Washington. Includes century (considered tune-up for 1-day STP in July) and metric century (tune up for 2-day STP); leave from Redmond; sponsored by Cascade Bicycle Club. #
Peninsula Metric Century –– June 2, 2019 Choose from routes of 60k, 100k or 100m. Starts in Tacoma at the Narrows Park & Ride. Presented by Tacoma Wheelmen. #
Lake to Lake Bike Ride — June 8, 2019 Explores Bellevue on side roads and bike trails. Benefits Bellevue Youth Camp scholarships. Starts at Lake Hills Community Park. Two options — 9 and 22 miles. #
Bicycle Sundays: Seattle — June 16 and 23, 2019Lake Washington Boulevard closed to vehicular traffic from 10 a.m. to 6 p.m. between Mount Baker Beach and Seward Park.
Woodinville Wine Ride — June 9, 2019 The bike ride takes the Sammamish River Trail and Burke-Gilman Trail to visit area wine producers. A wine and food sampling is provided at the turn-around at Magnuson Park. Presented by Cascade Bicycle Club. #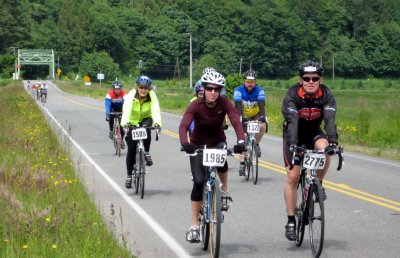 Tour de Forts — see October . Presented by PTRecyclery.
Wheels to Meals — June 15, 2019 Cancelled This year's ride is a 1-mile loop in Swan Creek Park. Riders can ride as far as they want never be more than 1/2 mile from a rest stop. All proceeds benefit St. Leo Food Connection, fighting hunger in Pierce County since 1982.
Evergreen Mountain Bike Festival — June 8-9, 2019 Races, raffles, demos and contests at Duthie Hill Mountain Bike Park in Issaquah .
Tour de Mason Lake — June 8, 2019 The charity bike ride for the Karen Hilburn Breast & Cervial Breast Cancer Fund features options of 20, 32 or 44 miles leaving from Shelton. Inaugural ride was in 2017.
Bike N Juice Festival — June 8, 2019 TBA A bike festival and race for kids 12 and under. Meets at Leavenworth Ski Hill from 9 a.m. until noon. Bring a bike, helmet and water. Presented by Weyerhaeuser.
Ride for Safe Streets – Seattle — June 16, 2019 A fun, music-filled, parade-like protest to call on Seattle leadership to act on transportation plans. Meets at Seattle City Hall at 1 p.m. for rally, then continues down 4th Avenue to Westlake Park. .
Gran Fondo Leavenworth — June 16, 2019 The course is just shy of 90 miles with 7500′ of climbing. There will be approx 36 miles of gravel that climbs 2600′ in 6 miles. Think Forest Service gravel, not GFE gravel. Then another 27 miles of rolling pavement back to Ellensburg. Presented by Vicious Cycle Cycling and Event Promotions.
Spokane Summer Parkways — June 20, 2019 Bicycling event in Comstock/Manito neighborhood, Spokane.T
Tour de Blast — June 22, 2019 Bicycle ride through blast zone of Mount St. Helens; 33, 67, or 82 mile options. Starts at Toutle Lake High School, 10 miles east of I-5 on Spirit Lake Memorial Highway; Longview Rotary Club #
Kent Earthworks Tour — The Kent Arts Commission is launching a new bike route with an inaugural bike ride. Options of 12, 20 and 23 miles visit "land art" at four area earthwork parks. Starts at Herbert Bayer Earthworks, Mill Creek Canyon Earthworks Park, 742 East Titus Street, Kent.
Painted Cyclists of Fremont Solstice Parade — June 22, 2019 Cyclists adorned in nothing but paint and a smile are a regular part of the Seattle neighborhood's Solstice parade, an event scheduled during the Art Festival on June 22 or 23. Check website for date.
Sea Tri Kan — June 19-23, 2019 A 400-mile charity bike ride of Washington state to raise money for refugees. The bike tour starts at World Relief's office in Kent and then passes through the Tri-Cities on the way to Spokane. Proceeds are tripled to provide housing assistance, transportation, English language classes, job skills training, interview & resume preparation, and more. #
Ride the Willapa — June 22-23, 2019 An up to 62-mile overnight round-trip to Pe Ell, camping at Rainbow Falls State Park or beyond, and return to Chehalis along the Willapa Hills Trail in Lewis County. Coincides with Pe Ell Village Festival and Tour de Farms. Register here. #
Chelan Century Challenge — June 22, 2019 Three loops of 30 – 40 miles each that combine challenging climbs (8,600 feet total elevataion gain) along with spectacular scenery around Lake Chelan. There is a timed hill on the 2nd and 3rd loops. Starts in Chelan. Presented by Chelan Rotary Community Foundation. #
Chelan Cycle de Vine — June 22, 2019 Also starts at Don Morse Park, like the century ride. The Cycle de Vine is 28 miles and includes a lake crossing (weather permitting). #
Two County Double Metric Century Ride — June 23, 2019 The bike ride features four distance options — 20, 50, 100 and 200km. The longest passes through Thurston, Mason, Grays Harbor, Pacific and Lewis counties. Starts at Providence Regional Cancer Center, 4525 3rd Ave SE Ste 200, Lacey, WA 98503 # .
Quinalt Cancer Fund and Community Circle Bike Ride — J June 29, 2019 A non-competitive, 30 mile ride around Lake Quinault on the Olympic Peninsula. Proceeds go to benefit the Quinault Cancer Fund and Lake Quinault Community Circle. Starts at the school in Amanda Park. Also, check out Facebook page.
Mt. Adams Country Bicycle Tour — June 29, 2019 Four bike ride options up to 100 miles based in Trout Lake. Optional box lunches and post-ride meals. #
Snohomish Ride to Defeat ALS — June 29, 2019 Charity bike ride for Evergreen Chapter of the ALS Foundation. Ride based in Snohomish.
Cascade 1200 — 2020 This highlight of North American Randonneuring routes cyclists completely around the Cascade Range, starting in Monroe northeast of Seattle, south to the Columbia River, north along the eastern foothills, and across Highway 20 at Washington and Rainy passes. Sponsored by Seattle International Randonneurs. (Registration opens in February)
Mazama — June 29-30, 2019 A two-day bike tour with luggage sag over the North Cascades Highway from Marblemount to Mazama and back. Presented by the Redmond Cycling Club. #
Tour de Pierce — June 30, 2019 Three cycling loops — 12, 30 and 50 miles — from fairgrounds in Puyallup; Pierce County Parks and Rec. #
Seattle Night Ride — July 26, 2019 Costumes and decorated bikes are welcome for this after-dark ride from Ballard at Peddler Brewing Company along the Burke-Gilman Trail and winds through Fremont, Lake Union, & Queen Anne. Presented by Cascade Bicycle Club. #
Sunride Hill Climb — June 30, 2019 This bike ride at Mt. Rainier National Park covers 40 miles up/down (20 mi climbing about 4,800′, then zooming 20 mi back down to start/finish). Starts and ends near the park's north gate. Organized by Willy Nilly.#
Mt. Adams Country Bicycle Tour and Family Fun Ride — See August bicycle calendar
Jump to July Bicycle Ride Calendar
Back to Washington Bicycle Ride Calendar main page
Selected bike ride route books for Washington state