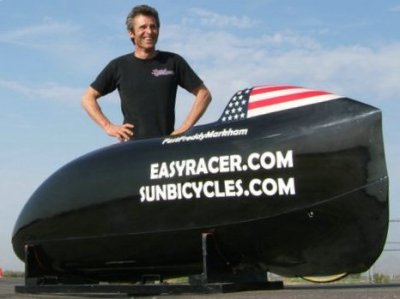 The next time you're driving down the freeway, set your cruise control at 54 mph. Glance out the side window at the scenery zipping by. Now imagine doing this under your own power.
Amazing? Now imagine yourself doing this under your own power for an hour. That's what Fred Markham did on an outdoor track in the Arizona desert the day before July Fourth.
Now slow down to 26 mph on a residential street. That's still pretty fast for self propulsion. Could you do that for 24 hours? Greg Kolodziejzyk did, on July 20.
The need for speed encouraged those two cyclists to set records for human-powered vehicles in July.
Just days after Tour de France cyclists blistered through a prologue at 32 mph, 49-year-old "Fast Freddy" Markham averaged 53.43 mph in a one-hour ride.
Then along comes Kolodziejzyk, who pedals 634.4 miles in 24 hours at the Redwood Acres racetrack in northern California. That's an average speed of 26.4 mph, all-day and all-night.
Fast Freddy
Markham's ride beat by one mile the record set earlier by Canadian Chris Whittingham. His effort won a share of the $40,000 Dempsey-MacCready Prize, established to go to the first person to ride 55.8 miles (90K) in an hour.
That offer was set to expire in 2006, so Nissan hosted the One-Hour Challenge on July 3 at its track in Casa Grande, Arizona. Because no single cyclist hit the mark, fellow competitors Whittingham and Matt Weaver shared the prize money.
Markham, who lives in Soquel, California, didn't set the record on a standard bike, however. He was piloting the Varna Mephisto, a recumbent-like bicycle encased in a carbon-fiber and Kevlar cocoon.
Although Markham might seem a little old for such a speedy pursuit, he relied on his top condition and lots of experience. He's the owner of recumbent bicycle maker Easy Racers.
Markham has set 20 records throughout his career, including the one-hour challenge in 1990 as well as being the first cyclist to break 50 mph and 60 mph in different events. He won the $18,000 DuPont Prize in 1986 for exceeding 65 mph.
Critical Mass
Riding the aerodynamically designed Critical Mass, Kolodziejzyk set the 24-hour record of 634.4 miles on July 20, breaking by 16 miles the distance that has stood since 1995.
While you can't dismiss the strength and endurance displayed by Kolodziejzyk, he also credited Bean Eadie of MountainWave Design Services who helped design the fish-shaped craft.
Instead of building several prototypes to refine the shape, they used software tools to create a vehicle that was not only aerodynamic, but comfortable and efficient for the cyclist. It's equipped with food, water, music and waste bags.
Before putting his efforts into the human-powered machine, Kolodziejzyk owned a small business in Calgary.
More about Markham's and Kolodziejzyk's records can be found at the International Human Powered Vehicle Association website. Also see the Human Powered Vehicle Supersite.
More records
There are other human-powered records to be set. One of the most prestigious is the .deciMach prize for one-tenth the speed of sound. That's 82 mph at Battle Mountain, Nevada, where Route 305 allows racers a straight level road for 4 miles.
The winner takes home $23,000; Whittingham reached 81 mph in 2002, setting a record but not the .deciMach.
The quest for that prize is on hold until 2009 as the organizers wait for a scheduled repaving of Route 305, which has deteriorated. The annual World Human Powered Speed Challenge will still be held there Oct. 2 – 7, however.