2016 (Updating to 2017)
Firecracker Fun Bike Ride — Feb. 11, 2017  This year's annual Firecracker Run festivities includes both a 20- and 30-mile bike rides from Chinatown as part of the weekend-long festival in Los Angeles. Both rides incorporate the LA River Bike Path Proceeds benefit Need2Read funding for local schools and non-profit community groups. Register here.
Stagecoach Century — Feb. 18, 2017  Seven desert routes from 26 to 150 miles leaving from Ocotillo, about 80 miles from San Diego. The routes trace the Great Overland Southern Stagecoach Route, circa 1849. 7 rest stops along the way. Sponsored by ST Promotions, Shadow Tour, Wells Fargo, Holiday Inn Select and AIDS/Lifecycle. Shadowtours.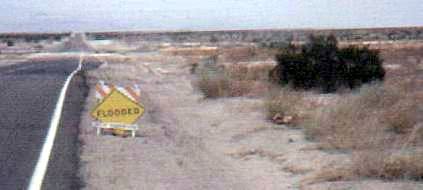 Crossing the California desert
Pedaling Paths to Independence — Feb. 25, 2017 Two options of 65 and 25 miles are offered for this ride that starts and ends in Linden. Includes post-ride meal. Proceeds go to Community Center for the Blind and the Visually Impaired.
Climate Ride Death Valley National Park — Feb. 25 – March 2, 2017 This charitable cycling challenge explores the Death Valley, a renown for little car traffic, warm winter weather, and unparalleled desert vistas. Limited to 40 bicycle riders.
Rice Valley Tandem Rally — Feb. 14, 2016  A tradition for tandem cyclists dating back to 1988, the rally has been dubbed the "Love Ride" due to the couples on tandems and proximity to Valentine's Day. Three options of 40, 60, or 100 miles around the famous Sutter Buttes ~ a series of mountain peaks made up of ancient volcanic domes. Starting from Butte County Fairgrounds in Gridley. Sponsored by Chico Velo Cycling Club. (Singles welcome too.) Fully supported.
Tour de Palm Springs  — (See Jan. 2017) A charity ride for nonprofits in the Coachella Valley.
Oceanside Valentine Ride — Feb. 14, 2016 Celebrate Valentine's Day with options of 5, 14, or 25 miles. Finishes at Oceanside City Hall with food, entertainment and beer garden.
North American Handmade Bicycle Show — Salt Lake City, UT. — Mar. 10-12, 2017 Expo and contest for handmade bicycle builders. Sacramento Expo Center.