Updating to 2014
Levi Leipheimer's King Ridge GranFondo — Oct. 5, 2013  A chance for all levels of bicyclists to ride with Leipheimer and some of his pro friends. Leaves from Santa Rosa and visits the Sonoma coast, redwoods and vineyards. Three options of 40, 65 and 104 miles. This is a fund-raiser for several local charities and the Dempsey Center for Cancer Hope and Healing. Register ASAP!
Revolution Ride — See September Now in its 10th year, the ride supports athletic programs for people with physical disabilities through the Bay Area Outreach and Recreation Program. Starts at Trentadue Winery in Sonoma County. Options of 65, 50, 40, and 25 miles as well as 5k.
Konocti Challenge — Oct. 4, 2014  Four courses comprising a family fun ride to a century around Clear Lake in Lake County. Benefits Lakeport Rotary.
Tour of Poway — Oct. 6, 2013   Five bicycle routes — 15 to 100 miles — through northern San Diego County. Starts and ends at Old Poway Park. Hosted by Kiwanis Club of Poway.
Share the Road Ride — Oct. 5, 2013  Three memorial rides of 100, 50 and 25 miles leave from the DMV parking lot in Simi Valley. Presented by Soaring Spirits Loss Foundation.
Grizzly Century — Oct. 5, 2013 A 100-mile ride starting in North Fork to promote the Sierra Vista National Scenic Byway. Also, 63- and 25-mile loops.
Central Coast Classique -  Supporting Uniformed Officers and Armed Forces — See August   Cyclists can choose from three options — 100, 62 and 30 miles — for the bike ride that begins at Arroyo Grande and passes vineyards in the Edna Valley. Winery discounts offered at rest stops. Presented by Creative Meditation and San Luis Obispo Law Enforcement Assistance Foundation (SLOLEAF).
Pablove Across America –Oct. 6-13, 2013 A charity bike ride to support children with cancer. In 2013, the group is sponsoring a bike tour from San Francisco to Los Angeles. Pablove website. 

Surf City AIDS Ride — See September  A fund-raising ride for the Santa Cruz AIDS Project. Four options of 12 to 100 miles; leaves from San Lorenzo Park in Santa Cruz.
Mt. Diablo Challenge — Oct. 6, 2013 Eleven-mile ride, all uphill, to the top of Mt. Diablo in East Bay suburbs of San Francisco Bay. 1,000 cyclists expected Must pre-register. Sponsored by Save Mt. Diablo
Bike MS Coastal Challenge (formerly Southern California Ride)– Oct. 12-13, 2013  Begins each morning at the San Buenaventura State Beach near Ventura. Day 1- 30, 65, 100 miles, Day 2- 35, 60. Benefits the National MS Society.
Clarks Corner Cycling Challenge — Oct. 12, 2013  Three options of 10, 30 and 50 miles in the hilly Amador County. Benefits Interfaith Food Bank of Amador County and World Bicycle Relief. Information here.
Solvang's Finest Century – Oct. 12, 2013 One hundred miles around Solvang. Presented by Planet Ultra; supports the Challenged Athletes Foundation.
Bass Lake Powerhouse Double Century — Oct. 12, 2013  The 200-mile bike ride begins in Clovis and routes cyclists up to about 3,800-foot elevation, with an estimated 16,000-foot total elevation gain. Lights are required for this one, although they can be dropped off at a morning rest stop and picked up at another stop later on the route. Sponsored by the Frenso Cycling Club.
Spooktacular — Oct. 13, 2013  Several strenuous cycling routes — including a century ride with 10,000 feet of climbing — in and around Bakersfield. Rides include Hideous Hundred, Horrible Hundred, Nightmare Ninety, Morbid Metric, Frightful Forty, and Trembling Twenty. Sponsored by Kern Wheelmen.
Col. Allensworth Century — Cancelled for 2013 The century rolls across the San Joaquin Valley and into the Sierra foothills. Optional bike rides of 40 and 80 miles take cyclists to the edge of the foothills; also 90 miles. Starts at Colonel Allensworth state park located between Visalia and Bakersfield. Sponsored by Crankin' Time Cycling.
Shenandoah County Pumpkin Pedal — Oct. 19, 2013 Cancelled Three bike route options of 112k, 100k and 50k leaving from downtown Plymouth.
Solvang Double Century — Oct. 12, 2013 A 191-mile route with more than 10,000 feet of climbing. Presented by Planet Ultra.
Fruit Yard Century– Oct. 12, 2013  (was Riverbank Wine and Cheese Century) Three rides — 25, 62 and 110 miles — encompassing everything from flat Central Valley farmland to steep Mother Lode foothills. The  ride begins at the Fruit Yard Restaurant in Modesto. Sponsored by the Stanislaus County Bicycle Club..
Valley Girls Ride – Oct. 12, 2013  Tour bike routes of 10 to 64 miles presented by Central Valley Cycling Charitable Association. Starts in Clovis.
San Luis Obispo Gran Fondo — Oct. 12, 2013 Three rides of 100, 50 and 25 miles along the coast and mountains of San Luis Obispo. (Formerly Candy Corn Classic).
Tour de Pink (California) — Oct. 17-19, 2014 Young Survival Coalition is sponsoring a charity bike ride for young women diagnosed with breast cancer. The three-day ride rolls out from Paso Robles to Point Mugu.
Wheels for Meals Ride — Oct. 19, 2013  The ride that supports the Alameda County Meals for Wheels offers three routes of 70, 35 and 15 miles starting in Pleasanton.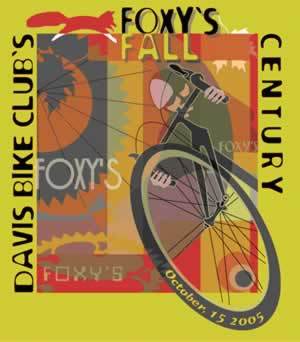 Foxy's Fall Century — Oct. 19, 2013   Billed as a good "first century," the three bike routes — 31, 62, or 100 miles — take cyclists through the orchards and rolling hills of Solano and Napa counties. Begins at Davis High School and sponsored by the Davis Bike Club.
Asti Tour de Vine – Oct. 19, 2013  Northern Sonoma County is the setting for four options of 25k, 50k, 100k or 100 miles (Rockpile Rumble).
Santa Barbara Century — Oct. 19, 2013  The century and metric century start at Leadbetter Beach and visit beaches and mountains of Santa Barbara, Goleta and Carpinteria. Significant elevation gain on each.
Miramar Bay to Bay MS Tour – Oct. 19-20, 2013 The fund-raiser for the National Multiple Sclerosis Society follows the Pacific Coast from Orange County to San Diego. Bike ride options of 30, 100 or 150 miles.
Ride to End Cancer  — Oct. 20, 2013  Three options of 25, 50 and 75 miles leaving from McHenry Village in Modesto. Raises money for Memorial Hospital's Triumph Fitness Program.
OC Ride for AIDS  – Oct. 25, 2014 This charity ride for the AIDS Services Foundation gives cyclists three options — 30, 62 or 100 miles. All the loops begin and end at William R. Mason Regional Park, Shelter 6, and include the Pacific Coast Highway and the Back Bay Bike Trail. 
Tour de Sewer Bike Ride — Oct. 26, 2013   A 15, 30, or 67-mile fun ride around Bell Gardens. Curious about the name? Check the history. Presented by the Lions Club of Bell Gardens.
The Condor Classic — (discontinued) This second annual bike ride raises funds for the reintroduction of the California condors at the Pinnacles National Monument along the Central Coast. San Benito County, located between the Diablo and Gabilan Mountain ranges near Monterey Bay, offers a mix of scenery, light traffic, ideal weather and history. Five ride options from 10 to 100 miles.
Tour de Cure – Santa Barbara – Oct. 26, 2013  Fund-raiser ride for the American Diabetes Association; 8, 37 and 67 miles..
Fall Death Valley Century, Ultra Century and Double Century — Oct. 26, 2013  Three options of 100-mile century, 144-mile ultra century or 200-mile double century. Presented by AdventureCorps. (These rides fill up fast.)
Cystic Fibrosis Ride — Oct. 27, 2013  Options of 65 or 30 miles, leaving from Lakeview Park at Irvine Park. Orange County Wheelmen.
California by Bike Surf 'N Turf Tour is a California Bicycle Coalition sponsored ride that rolls down the coast from Santa Barbara to San Diego. Proceeds go to the Better Bikeways campaign, advocating for more funding and improved design for bikeways in California, and the Give Me 3 campaign, created to promote awareness of the Three Feet for Safety Act going into effect in September 2014. Lodging, rest stops, SAG and mechanical support are provided. Dates: Oct. 31 – Nov. 5, 2014.
Back to California ride calendar