Updating to 2021
Levi's GranFondo — Oct. 3, 2020 A chance for all levels of bicyclists to ride with Leipheimer and some of his pro friends. Leaves from Santa Rosa and visits the Sonoma coast, redwoods and vineyards. Eleven route options. This is a fund-raiser for several local charities and the Dempsey Center for Cancer Hope and Healing. Register ASAP!.
California Classic — Oct. 2, 2021 A 10-mile section of the Sierra Freeway (Route 168) is closed to cars for this bike ride that starts in Fresno. Three options of 35, 60, 100 miles. (All riders must start at 7 a.m.)
Wine Country Century — 2021 TBA Four routes through Sonoma County wine country with options for 35 miles, 66 miles, 100 miles, or 130 miles. Limit 2,500; sponsored by Santa Rosa Bicycling Club (Usually scheduled in May; delayed until fall due to Covid-19)
California Coast Classic Bicycle Tour Oct. 3-10, 2020 A fund-raiser bike ride for the Arthritis Foundation. Two options — 6-day, 355-mile ride from San Francisco to Buellton or if your schedule permits, an 8-day, 525 mile ride from San Francisco to Los Angeles.
California Dream Ride — Oct. 4-9, 2020 The multi-day bike ride from Santa Barbara to Oceanside takes advantage of prevailing winds and avoids many big climbs. Presented by California Bicycle Coalition.
Konocti Challenge — Oct. 5, 2019 Four courses comprising a family fun ride to a century around Clear Lake in Lake County. Benefits Lakeport Rotary.
Sacramento Century Challenge — Oct. 5, 2019 The loop rides start at the Capitol Mall in Sacramento and features four mostly flat courses of 100 miles, metric century, metric half-century, and 16 miles. Proceeds will benefit Sacramento Children's Home's Crisis Nursery program.
Sea Otter Classic Weekend –Oct. 7-10, 2021 Four rides — a gran fondo, mountain bike tour, open road tour, and a "gravel grinder". Sea Otter Classic Recreation events. Monterey
Flat, Fast, Fun Bike Ride (3F Century) — Oct. 9, 2021 Billed as a flat century through the pastoral scenery of Colusa and Sutter counties. Also a metric century and 38-mile ride. Starts in Colusa.#
Los Angeles Tour de Cure – Oct. 6, 2019 Charity bike ride for American Diabetes Association meets at the Glendale Community College. Six options of 12 to 100 miles.
Tour de Cure – San Diego — Virtual event Oct. 10, 2021 Four ride options of 100, 62, 29, and 7 miles leaving from the Del Mar Fairgrounds in San Diego. Fund-raiser for American Diabetes Foundation.
Strawberry Fields Forever — Oct. 11, 2020 A fund-raiser for Cyclists for Cultural Exchange, with the express purpose of furthering peace and international understanding through exchanges between people with a common interest in cycling. Three route options of 30, 65 or 100 miles leaves from Pajaro Valley High School, 500 Harkins Slough Rd, Watsonville, CA, 95076.#
Asti Tour de Vine — Oct. 12, 2019 Northern Sonoma County is the setting for four bike route options of 25k, 50k, 100k or 100 miles (Rockpile Rumble).
Mt. Diablo Challenge — Oct. 13, 2019 Eleven-mile ride, all uphill, to the top of Mt. Diablo in East Bay suburbs of San Francisco Bay. 1,000 cyclists expected Must pre-register. Sponsored by Save Mt. Diablo.
Tour delle Vigne Lodi Sunrise Century — Moved to October 2021; date TBA Presented by the Lodi Sunrise Rotary Club, the ride offers options of 50k, 100k and a 100 mile grand tour through the wine country surrounding Lodi.#
Golden Hills Century — Oct. 12, 2019 (formerly Fruit Yard Century, and Riverbank Wine and Cheese Century) The ride starts in Knights Ferry and explores the Mother Lode foothills on three options — 23, 66 and 100 miles. (Check in at Odd Fellows Hall on Sonora Road) Sponsored by the Stanislaus County Bicycle Club.
Bass Lake Powerhouse Double Century — Oct. 12, 2019 The 200-mile bike ride begins in Clovis and routes cyclists up to about 3,800-foot elevation, with an estimated 16,000-foot total elevation gain. Lights are required for this one, although they can be dropped off at a morning rest stop and picked up at another stop later on the route. Sponsored by the Frenso Cycling Club.
Great Western Bike Rally — Oct. 15 – 17, 2021 The rally over Memorial Day weekend in Paso Robles features 25 bicycling routes for rides of 5 to 100 miles. Also mountain biking routes and a bike train.  Although most rides are unsupported, there is a supported century and metric century. Also bike swap, vendors, BBQ, etc. Tent camping or RV at the fairgrounds.#
Devil's Slide Ride — Oct. 17, 2020 Ride the most scenic routes in Northern California, while supporting more than 1,000 individuals with developmental disabilities. The DSR features three routes that offer something for everyone, from weekend warriors to hard-core endurance cyclists. Each distance features coastal vistas, mountain climbs, rolling hills, backroads and best-in-class support. Choose from the Century, Metric Century or Forty Mile distances.
Tour de Cure – Silicon Valley — Rescheduled as virtual event on Oct. 18, 2020 Starts at
Foothills College, 12345 El Monte Rd, Los Altos Hills Fund-raiser for American Diabetes Association.
Tour de Cure – Yountville (Napa Valley) — Rescheduled as virtual event on Oct. 18, 2020 Starts at the Veterans Home of California, featuring several options from 10 to 100 miles. Fund-raiser for American Diabetes Foundation.
NorCal AIDS Challenge (Sacramento) Oct. 22-25, 2020 This 330-mile bike ride in Central California to benefits HIV/AIDS services in the Sacramento Valley. There's also a shorter weekend option. Online support for training and fund-raising.#
Tour de Pink (California) — Oct. 25-27, 2019 Young Survival Coalition is sponsoring a charity bike ride for young women diagnosed with breast cancer. The three-day ride rolls out from Santa Barbara to Del Mar
Solvang's Finest Century — Oct. 19, 2019 One hundred miles around Solvang. Presented by Planet Ultra; supports the Challenged Athletes Foundation.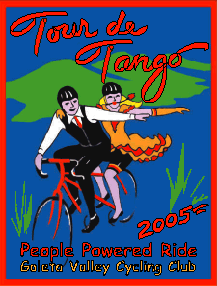 Spooktacular — Oct. 19, 2019 Several strenuous cycling routes — including a century ride with 10,000 feet of climbing — in and around Bakersfield. Rides include Hideous Hundred, Horrible Hundred, Nightmare Ninety, Morbid Metric, Frightful Forty, and Trembling Twenty. Sponsored by Kern Wheelmen.
Solvang Double Century — Oct. 19, 2019 A 194-mile bicycle route with more than 11,000 feet of climbing. Also, a metric double option. Presented by Planet Ultra.
Bay to Bay — Oct. 19-20, 2019 Bike from Irvine to San Diego on this Bike MS charity ride. Choose between 25-mile one-day option or 100-, 125-, or 150-mile two-day options
Discovery Classic Bike Ride — 2019 TBA Beginning in Hollister, two options feature the Gravel Grinder (road bikes work well using wider tires) or Family Fun Ride. Travels through valley bordered by mountain ranges. Presented by San Benito Chamber of Commerce.

Foxy's Fall Century — Oct. 19, 2019 Billed as a good "first century," the three bike routes — 31, 62, or 100 miles — take cyclists through the orchards and rolling hills of Solano and Napa counties. Begins at Davis High School and sponsored by the Davis Bike Club.
Santa Barbara Century — Oct. 19, 2019 The century and metric century start at Leadbetter Beach and visit beaches and mountains of Santa Barbara, Goleta and Carpinteria. Significant elevation gain on each.M
Wheels for Meals Ride — Oct. 26, 2019 The ride that supports the Alameda County Meals for Wheels offers three routes of 70, 35 and 15 miles starting in Pleasanton
Ride the Parkway — Oct. 6, 2019 Choose from 3 different routes along the paved Jedediah Smith Memorial Bike Trail, stretching from downtown Sacramento to the Nimbus Fish Hatchery.#
Oceanside Double Century — Oct. 26, 2019 This 200-mile bike ride uses roads along the coast as well as climbs into the mountains and desert. Options of 130 and 150 miles also are offered. The ride, which starts and ends in Oceanside, is included in the California Triple Crown Series.
Tour de Lincoln — Oct. 30, 2021 Based in Lincoln, the bicycle tour offers four routes — The Pleasure Cruise (10 miles), The Rolling Hills (20 miles), The Country Climb (40 miles) and the Metric Century (63 miles). Longer rides have some climbing. Benefits Rotary service projects.#
OC Ride for AIDS — 2019 TBA This charity ride for the AIDS Services Foundation gives cyclists three options — 30, 62 or 100 miles. All the loops begin and end at William R. Mason Regional Park in Irvine, and include the Pacific Coast Highway and the Back Bay Bike Trail.
Back to California ride calendar