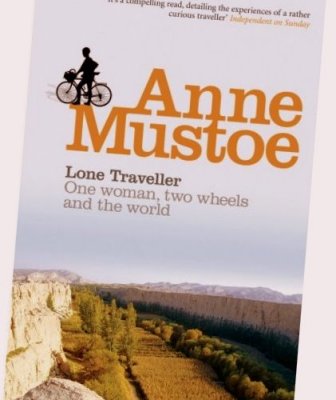 One of the bicycling world's most articulate travel authors passed away recently on what she said was going to be her last around-the-world bike tour.
Anne Mustoe of Great Britain died in a hospital in Aleppo, Syria, on Nov. 10. She was 76.
The former girl's school headmistress started her around-the-world bicycle travels when she was 54. She circled the globe twice — once in each direction — and wrote 7 books about her adventures.
She got the idea to travel by bike when she saw a man pedaling a bicycle across a desert in northern India. She was riding in a passing train at the time.
According to an obituary in the London Times, she left her job at the girl's school and was given a Condor bicycle as a going away present. She covered about 100,000 miles on that bike before she died.
Around the world
She traveled westward for her first around-the-world solo bike journey in 1987. "A Bike Ride" told the story of that tour. She wrote about her second around-the-world bike ride in "Lone Traveller." Writes the Times:
"The extra dimension with which Mustoe sustained her travels was that she followed historical routes: Roman roads across Europe; Alexander the Great's route from Greece to the Indus Valley; Pakistan and India with the Moghuls and the Raj; and so on. Across the United States she followed the great pioneer trails, and undeterred by downpours, heat, political turmoil or amorous waiters, she promptly decided to do it all over again, in reverse direction."
Mustoe last reported at her website that she had just bicycled across the southern tier of the US from San Diego to Savannah on her third around-the-world journey and was preparing to leave London to head westward in May 2009. That's the bike tour that ended in Syria.
Flat tire
Reading the FAQ at her website, essentially a Q&A with herself, I was amazed at how much of her travels were left to chance. In a day when bike travelers can carry GPS equipment and many obsess over every part of her bicycle, she didn't even know how to fix a flat tire.
"I've never mended a car, so why should I have to mend my bike? I pay someone to do it for me. I don't enjoy tinkering and I'm no good at it. But there's a serious reason too. In poorer parts of the world, the small sum of money I pay for a puncture repair is nothing to me, but to the man who earns it, it's dinner for his family. …

"So far, I've been lucky. I usually seem to have these problems outside a bike shop! I had a puncture just once out in the desert, in Colorado. But my luck held. In no time at all, a man appeared in a pick-up truck and drove me and my bike to a shop in Vernal, where I got the puncture repaired. I was cycling round the world at the time, so I didn't cheat. I hitched a lift back to the spot where the nail attacked me and started cycling again from there."
No camping
She also goes into detail about the gear that she carries. Although it includes a sleepling bag and tarp, she doesn't carry a tent. She almost never camped.
"If there isn't a hotel, I have to rely on the kindness of local people, who always come up with a safe place for me to spend the night. I've slept in some funny accommodation – pilgrim shelters in Hindu temples, on the table in a station waiting room, seven-in-a-bed with Tadjik nomads (and when one turned over, the other six had to follow). I've even slept with the Chinese Army at a frontier post in the Pamirs. Being a lone woman has its advantages, as vulnerability brings out the protective in people and I'm obviously not a threat."
Mustoe will surely be missed, but her travel writing could last for years. Her books are listed at her website and are all available for purchase.
First seen at Bike Bits, Adventure Cycling Association…