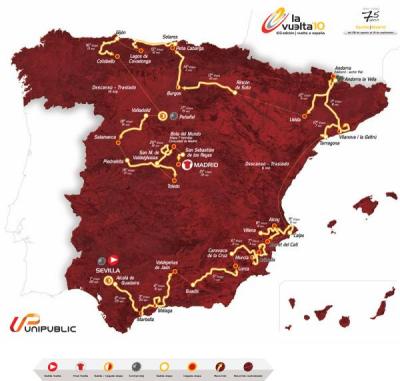 Organizers for the Vuelta a Espana, the last of the trio of Grand Tours, announced a 2,068-mile route for the bike race in 2010.
While much will be made about the mountain stages and the reduction of time trials to just two, this Vuelta may best be remembered for changing the color of the leader's jersey from golden to red.
As last year's Vuelta winner, Alejandro Valverde will be the first to wear the red jersey when the bike race begins in Seville on Aug. 28.
The opener is an evening team time trial, one of only two time trial in this year's race (the other is on Stage 17). The bike race ends in Madrid on Sept. 19.
Ascensión
Pro cyclists with a strong desire to win the race better put in some training on the slopes before the Vuelta. There are six mountaintop finishes and 40 climbs — three above category, 10 first category, 14 second category and 13 third category.
The mountain stages start on Stage 3, return on stages 8 through 11 and 14-16, and wrap up on the penultimate stage. Stage 20 is a 104-mile challenge with two Category 1 and a finish on the above category Bola del Mundo.
I suppose they threw that last one in there to keep the race leader, wearing the red jersey, from thinking he could take it easy during the last week of the race.