An historic auto road that goes deep into the Mount Rainier National Park will be permanently converted into a trail for bicyclists and hikers under a plan announced by the park service on Friday.
The Carbon River Road in the northwest end of the park has been closed to auto traffic since 2006 because of a series of damaging floods. It has remained open, when possible, as far as the Isput Creek Campground for hikers and bikers.
Under the new plan, an effort will be made to retain as much of the historic road as possible. Trails that connect those old road sections along the Carbon River will be upgraded for bicycle use.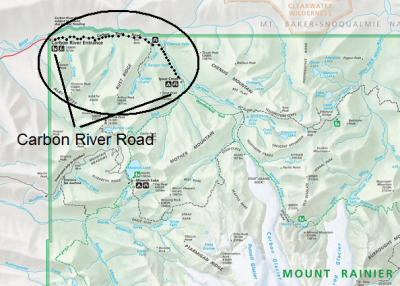 That 5-mile-long road was originally built in 1921. It connected the park entrance near the small town of Wilkeson to the Isput Creek Campground, a jumping off point for hikers to the Carbon Glacier on the north side of Mount Rainier.
Over the years, however, boulders and other debris have washed down the Carbon River drainage, raising the riverbed by as much as 31 feet in places. This has put several areas of the road at the same level of the river and led to constant flooding.
My bicycling buddy Kazuki and I took a bike-camping trip down there in August. The 5-mile route along the Carbon River to the campground was easy riding along the old road. The old turnouts still existed where sightseers could park their cars and enjoy the river from a picnic table.
A few sections of connecting trails were smooth but challenging, especially with our trailers. I remember a couple of tight turns and spinning out on a sandy trail surface in places. Still, it was an easy enough ride.
In addition to permanently converting the road into a hike and bike trail, the Isput Campground will be converted for use by backcountry campers.
When funding becomes available, an area for auto campers will be built on expanded park property, away from the threat of flooding.
Park superintendent Dave Uberuaga said in a press release:
"Carbon River is an incredibly special area of the park for me and many others. We think it will become a destination for bicyclists and hikers when they learn what the area has to offer.

"Using a bicycle to get to Ipsut Creek Campground still makes a day-trip into Carbon Glacier feasible, and provides an enjoyable way to experience the area and park."
More documents about theenvironmental review for preserving Carbon River Road.
Read about our camping trip to Mount Rainier.