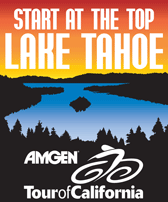 While Levi Leipheimer is battling for real, cycling enthusiasts can enjoy parts of the 2011 Amgen Tour of California from their own two wheels.
Some tourism bureaus are creating bicycle ride packages that enable weekend warriors to experience the route and in one case ride with the legends of cycling.
Of course, cyclists who don't need the sag support of an organized bike ride can follow the race maps supplied online. Just log into the Amgen Tour of California website and click on "Stages" under the "Routes" tab.
This is the sixth Tour of California. It rolls out from May 15-22 with a start at Lake Tahoe.
Lake Tahoe
Stage 1 of the Tour of California will be featured with the Start at the Top — Lake Tahoe Legends Ride, which is scheduled the day before the race starts on Saturday, May 14, for the first $1,000 who sign up.
Presented by Bike the West, the tour features two routes. The 72-mile roadway route is a full loop around Lake Tahoe; a 35-mile ride starts with a boat cruise across the lake and finishes with the bike ride.
Cycling legends who will be making the ride include Bobby Julich, currently a coach with Team Sky, Olympic cyclist John Howard, as well as Max Jones, Mike Neel, David Brink and Roland Della Santa.
Solvang
On May 20, 100 qualified amateur cyclists will get to ride the 15-mile individual time trial course just one-hour before the pros take to the course in Solvang. Their "Race of Truth" takes place in front of spectators who are arriving to watch the pros. The $1,325 price tag includes hotel and other VIP amenities.
Mt. Baldy
The L'Etape du California presented by Herbalife and Specialized is a fund-raiser for Breakaway from Cancer. It features the queen stage of this year's tour, the 76-mile stage from Claremont to Mount Baldy ski area — an elevation gain of 10,000 feet.
Cyclists can look forward to climbs up Glendora Mountain Road, Glendora Ridge Road, and the switchbacks up to the Mt Baldy Ski Area
As a gran fondo, chip timing is available for part of the course and King and Queen of the Mountains awards will be offered. The date of the ride, May 7, is a couple of weeks before the pros arrive.
Tour operator
Trek Travel — the race's official Tour Operator — is presenting a tour package that includes bike rides around Lake Tahoe and up Mount Baldy, as well as access to cyclists during dinners and official vehicle rides behind time trial competitors.
As the Amgen Tour of California comes closer, I'm sure other communities will announce bike tour packages. Check the Cities listing info at the Tour of California website. I'll try to include those Tour of California ride updates at the California Bicycle Ride Calendar page as well.