Time marches on, pedal stroke by pedal stroke. In a few days, your bicycle calendar will be woefully out of date.
Here are a few suggestions for calendars that you might not mind seeing every day in 2012.
The women's bicycling gang "The Belle Starrs" is entering the calendar madness in 2012 with its "Safety is Sexy: Your 2012 pin-up is a guide to ride." Based in Fort Collins, Colorado, the bicyclists are raising money for their club as well as a local charity. That's Stacy Schroeder on the cover, with other members featured inside.
Although not as sexy, the Adventure Cycling Association's 2012 Calendar will feed your interest in bicycle touring. The nonprofit used photo entries from its Bicycle Travel Photo Contest to create this calendar that shows bicycling touring scenes from around the world.
Will at the Cycling Challenge blog is offering a Cycling the Alps calendar for 2012. These are basically photos taken from this recreational cyclist's many climbs into the Alps. At left is a YouTube video of the calendar scenes; click on it to see a larger version. The calendar is printed by QOOP.com.
Also featuring an international flavor is the International Bicycle Fund's Solidarity Calendar for 2012. The photos from the Seattle-based nonprofit shows people using bicycles for transportation and hauling cargo in scenes set around the world.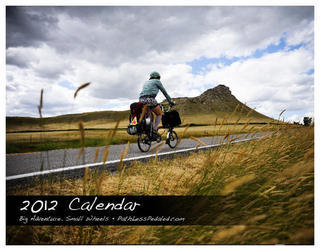 Another blogger publishing a calendar this year is Russ Roca. The 2012 Big Adventure Small Wheels calendar, at right, features scenes from Laura Crawford's and Roca's recent travels with the Brompton bicycles from the Path Less Pedaled website and blog.
Meanwhile, the Rails to Trails Conservancy's 2012 calendar features scenes from thousands of miles of bike trails that have been converted from abandoned railroad routes. Included are 13-story trestles in Iowa and old mining routes in the Rocky Mountains. The calendar is available from the nonprofit for a $20 donation, or more.
While this is the Belle Starrs first calendar, the CyclePassion calendar publication shot in Germany by Daniel Geiger has been at it since 2006.
The calendar features suggestive poses of women of the global cycling circuit. This year's international cast features Liz Hatch of the US, Veronica Andreasson of Sweden, Pauline Ferrand Prevot of France, Hanna Klein of Germany, Katherine O'Shea of Australia, Maja Wloszczowska of Poland and Marion Rouse, shown at left, of France.
More traditional cycling photos are provided in the 2012 Graham Watson Cycling Calendar.
The large format calendar features highlights of the 2011 pro cycling season. And although there are 12 months in the year, the calendar comprises 40 photos. It also lists dates of the year's major and minor bike races.
The cycling pub formerly known as VeloNews, it's now just Velo, is publishing the 2012 Velo Calendar this year. It features "stirring images" of pro cycling scenes and is available at VeloPress.
If you're not a roadie, VeloPress also is publishing the 2012 International Mountain Bicycling Association calendar. It also features "stirring images" from the sport.
And to fill out the 12 calendars for 2012, here are a couple of more offers from Amazon.com this fall: 2012 Cycling Through History Wall Calendar and 2012 Bicycles Wall Calendar.