I've attached lots of different lights, pedals, saddles, handlebar grips and other gizmos and gadgets to my bike or myself in the past 10 years.
The one thing that's given me the most pleasure is a simple rectangular eyeglass mirror that cost me less than $10.
Like my helmet, I can't leave home without it. That's the mirror in the photo at left as I'm being trailed across Kansas by my son this summer.
If you're searching for a holiday present for a bicyclist, a mirror would be a good choice. Any local bicycle store will have a good selection.
Stiff neck
I started using the mirror 6 or 7 years ago when I developed a stiff neck. I don't know if the pain came from bad bicycle posture — or something unrelated to bicycling — but I would tweak it every time I'd check over my left shoulder for traffic.
Since using the mirror, I haven't had that pain in the neck and only need to move my head slightly to get a good view of the entire road behind me. I also have felt more relaxed on the bike.
When I started using the mirror, I was inclined to check the mirror constantly. Soon I developed the habit of just checking the mirror whenever I want to move left or if I heard traffic approaching on a narrow road.
Addictive
I use it on the bike trails too, checking the mirror for faster overtaking cyclists if I'm about to swing to the left to avoid a pedestrian.
I've also found it useful on congested mass bicycle rides, like Seattle-to-Portland, where any sudden change in direction or speed can cause a collision with another cyclist.
This past year, I even wore the mirror when I pedaled out remote stretches of the John Wayne Pioneer Trail so I could check behind for views that might make good photos.
How addictive is the mirror? I've found myself glancing to the upper left — the mirror's usual location — when I'm just walking down the street.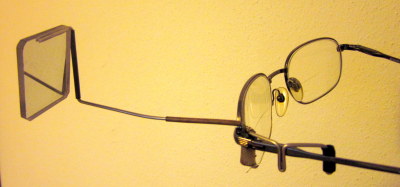 Adjustable
With all of a mirror's advantages, I'm always surprised to see bicyclists decked out in iPod or Garmin gadgetry, but with no mirror.
I chose the eyeglass mirror because I have to wear glasses all the time and I thought it would hold a steady position. Dumb luck led me to this model that uses thick metal wire — it bends instead of breaks and is fully adjustable.
A couple of the rubber fittings have fallen off, but they were easy enough to replace with tape.
I have no idea of the manufacturer, although I found similar products online made by Bicycle Peddler. The price is still under $15.

More choices
The IceBike website has a rundown of all types of bicycle mirrors. There are plastic mirrors that attach to eyeglasses, as well as plastic mirrors that attach to helmets.
Mirrors that attach to the ends of handlebars also are popular.
I can't really speak to these as I've never tested them. Just based on my own use, I'd recommend the metal eyeglass mirror.