This is far as you can get by bicycle to the old site of Newcastle, aka Red Town, an historic coal mining center that's now Cougar Mountain Park east of Seattle.
The park is closed to bicycle use, even though many of the trails are wide and stable enough to carry fire equipment and park vehicles.
Hemmed in by the suburbs, it gets quite crowded with hikers and joggers. Even as I was taking some snaps here this drizzly morning, five cars pulled into the parking lot to disgorge runners.
The scene here 100 years ago would have been startlingly different. Coal was discovered here in 1863 and coal mines dotted the landscape by the turn of the century. Steam plants belched smoke and coal-washing and separating facilities lined the creeks, below.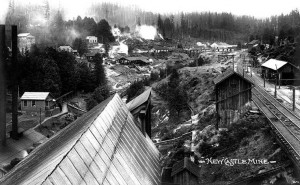 More than 250 men worked here in its heydey, and their families lived and shopped in the old Newcastle town site, called Red Town because so many homes were brightly painted. (When the mines closed in the 1920s, Newcastle moved to its present site downhill.)
Walking around here, you'll see depressions where the ground has collapsed into the mine shafts. A couple of mine entrances are still visible and exhibits show historic photos from the site of Ford Slope and other mines.
Across the street from the parking lot is a solitary cement wall. It's all that remains of the old Coal Creek Hotel that served the mining district at the turn of the last century.
Railroads hauled the coal to Seattle for use there, or to be shipped to San Francisco. I biked on the old Seattle & Walla Walla Railroad bed about five miles away last week.
This area shows how much the landscape can change over time.
The surveyors who found coal also explored an area covered to dense forest. Then coal mining transformed it into an industrial area with huge buildings and noisy operations.
Now, all that's gone, except for the sinkholes and the corner of a hotel foundation. A dense forest is once again growing here.
30 Days of Biking
Total days — 18/18
Total miles — 249