The John Wayne Pioneer rail-trail that rolls through the Iron Horse State Park has to be one of my favorite bicycling destinations. It's close enough for overnight bicycle camping, but I also get a feeling that I can get-away-from-it-all up here.
I'm including it in a book that I've been asked to write about the best places to ride a bicycle in the Seattle area.
In doing some research over the weekend, I ran across a couple of old photos from the days when the Chicago, Milwaukee, St. Paul and Pacific Railroad rolled over Snoqualmie Pass on its way to Seattle.
The first photo (I'll post the other later) is looking west at the Boetzke Creek trestle taken in April 1911. That's right about the time that the railroad started making its runs through the mountains to Seattle. The photo is in the online archives of the Seattle City Clerk.
Here's a photo, left, that I took this past summer looking eastward from the approach to the trestle. At first glance it doesn't even look like the same place.
But there's that steep slope on the approach in both photos, and you can tell how the trestle curves.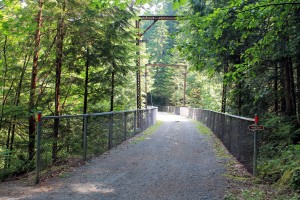 In another photo from last summer,  you see the girders over the span. Those were used to carry the wires when the railroad was electrified beginning in about 1915.
The other big difference is the chain link fence along the edge; I suppose that was added to prevent bicyclists from riding off the edge and into oblivion while they look at the amazing scenery from up here.
The state took over the 300-mile abandoned railway right-of-way in 1980. Although it runs from the vicinity of Rattlesnake Lake near North Bend all the way to the Idaho border, the entire length has not been improved for bicycle use.
The most passable section of trail runs for about 100 miles from Rattlesnake Lake to the Columbia River, passing through Easton, South Cle Elum, Thorpe and Ellensburg along the way. The remainder in eastern Washington is still paved with the ballast that supported the railroad ties.
For more, follow the link to the John Wayne Pioneer Trail below, or check out the link  to Iron Horse State Park.