Bicycles and micro-brewed beer seem to go together. There's more to both than first meets the eye.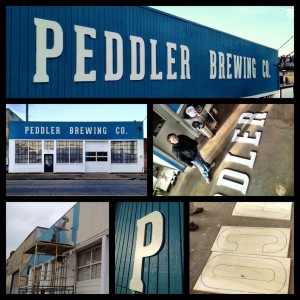 So it's pleasant news that a micro brewery and tasting room — Peddler Brewing Co. — is set to open in Ballard.
Of course there are other bars and micro-breweries that enjoy a bicycling clientele in the Seattle area. As far as I know, though, Peddler Brewing will be the first with an indoor rack to hang nine bicycles as well as a pump, work stand and tools to enable customers to do a little wrenching while they puzzle over that mysterious squeak coming from the drive train.
With the opening still a little while away, the owners are seeking backers at Kickerstarter.com to help fund some of the opening costs.
Haley Woods and David Keller say they met the first $5,000 goal in just five days; now they're trying to raise $15,000 to offset some investments and upgrade some others.
For instance, they'd like to buy pint glasses with logos, instead of using just blank glasses. Also, they need to build the system for 8 taps, a temperature regulating system for the fermenters, and a growler filler, as well as finish the cold room.
The investors can participate at different funding levels, starting at $1. In return, they get — depending on their level of support — free magnets, beer glasses, name on a plaque, T-shirts, and use of the facility for a private party.
So far, $13,148 has been raised from 201 people, with just 6 days remaining to their Jan. 23 deadline.
Brewery district
The new brewery is located at 1514 NW Leary Way. It's located in an area that's been dubbed by the Washington Beer Blog as "Seattle's RedHook District" because brewer was launched there 30 years ago.
King 5 reports that six new breweries have opened or are set to open soon. They are Urban Family, Populuxe, Northwest Peaks, Hilliard's, Reuben's Brews and, of course, Peddler Brewery. They join the existing Maritime Pacific and Hale's Ales.
So what is it about beer and bicycles? Here's what veteran brewer Ben Dopler of Widmer Brothers says about the issue:
They both appear to be so simple, but the reality is they're massively complex. The reason being each bike and beer has subtleties that might not stand out to everyone. The geometry of a frame is different from one maker to the next, just like an IPA I make is different than someone else's. Same concept, but subtly different and unique.
You can learn more about Peddler Brewing and find out when they're going to open at the Peddler Brewing website or Facebook page.
Photo montage above from the Facebook page.