For the first time since a dark and stormy night in 2007, bicyclists in Lewis County can ride a reasonably surfaced rail-trail from Chehalis to Pe Ell — a distance of 22 miles.
State parks officials this week essentially opened this stretch of the 56-mile Willapa Hills Trail when they signed off on a trestle resurfacing project near Adna.
This eastern section of the Willapa Hills Trail has been beset in recent years by the severe flooding in 2007 that washed out two bridges and a dilapidated trestle that only offered rotting cross-ties for passage.
The two replacement bridges over the winding Chehalis River weren't opened until 2015. Then crews started working on the Adna trestle (the dilapidated trestle had been officially closed for years, but many people carefully crossed it anyway).
Work on the new, all-weather surface and railings was completed recently on the 1,000-foot Chehalis River crossing. The state Parks and Recreation Commission, which owns the trail, inspected the bridge Tuesday and opened it for use.
An official at Discover Lewis County wrote, "This is probably the biggest news for users of the Willapa Hills Trail yet!" when announcing the bridge reopening.
An official ceremony marking the opening is scheduled for 10 a.m. June 18 at the Adna trailhead.
The reopening of the bridges after a nine-year hiatus creates a vital recreation corridor into the bucolic Lewis County landscape.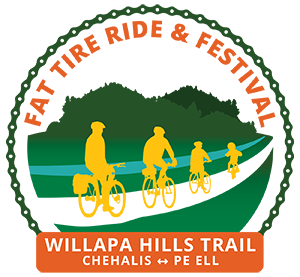 It also ensures that the first-ever Willapa Hills Trail Fat Tire Ride & Festival can go ahead as planned for June 25-26.
The two-day, round-trip bike ride out to Pe Ell and back starts in Chehalis. Overnight camping — as well as entertainment and food — will be provided in Pe Ell.
Mountain bikes with fat tires are recommended due to the rough trail conditions; only the first five miles west of Chehalis are paved.
The trail seems to be a work in progress lately.  Wayne VanWeerthuizen at the informative Willapa Hills Trail Fans Facebook page said a short section of trail between Doty and Pe Ell is temporarily closed for repairs, requiring a detour onto the shoulder of State Route 6.
Also, another trestle west of Pe Ell has been replaced. The state parks commission says its trail work in Lewis County should be done soon. The commission will begin seeking funding to complete the Pacific County trail next.
More information on Willapa Hills Trail at Lewis County Community Trails.