An early Pacific Northwest bike ride that ushers in the mountain biking season has been postponed from this weekend to March 9 due to predicted heavy snowfall.
The ride — Stinky Spoke — bills itself as "Good Times, Bad Weather," but apparently the Seattle area snowfall predicted for this weekend threatened bad weather that wouldn't lead to good times.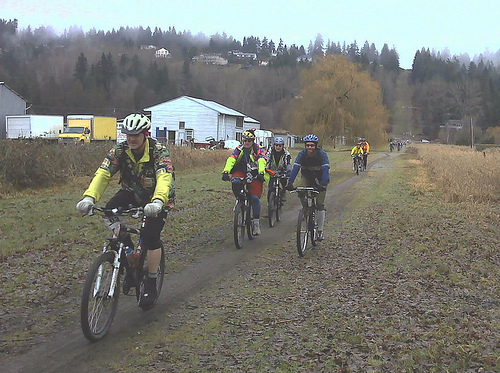 At the event's Facebook page, organizers said:
"YES, IT CAN GET TOO STINKY! Our route scout has surveyed the course and deemed it UNRIDEABLE. While many looked forward to a snowy ride, this hilly course is heavily iced, and coming snow and low temperatures make it even less safe. We want all participants, including volunteers, to travel as well as bike safely. "
The approximately 19-mile mountain bike ride was scheduled to start at Redmond City Hall this year, instead of the traditional start at Red Hook Brewery, which has moved from its former home on 145th Street in Woodinville.
From City Hall, the course was to proceed north on the Sammamish River Trail and make a right turn onto the uber-steep Tolt Pipeline Trail into the hills east of town. The route returns to the Sammmamish River Trail and City Hall via the Powerline Trail. Finishers would have celebrated under a tent with beer provided by Postdoc Brewing and music featuring the Massy Ferguson band.

This marks the first year that the decade-old event fell under the auspices of the Redmond Rotary. The ride previously had been a fund-raiser for the Little Bit Therapeutic Riding Center.
The Redmond Rotary took over the event after abandoning its RedSpoke cross-state bike ride after 30 years due to logistics.
Organizers say the event will go forward as planned, just on a different date. "There is no need to re-register for that date. Emails will go out to riders today (Thursday), but please share this with your friends. Refunds will be available for those who can't make it on March 9. Registration will continue for the ride, which we plan on making as fun on another stinky day as all have come to expect."