Wednesday, June 6, 1984
Ste. Genevieve, Mo. to Johnson's Shut-ins State Park
78 miles
Locator map
I'm reprinting the day-to-day journal entries of a cross-country bike tour my friend and I took in 1984. More about the TransAmerica Tour 1984
Gene's Journal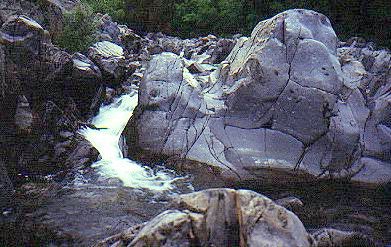 We're tenting in the group camp area near some Boy Scouts tonight. They're pretty comical, and a couple came over for awhile for important talk about bicycles, like: "Can you ride no-hands?"
I know Missouri is the "Show Me" state, but I don't know why it's called that. I would like to have people around here show us some common courtesy.
The folks in Ste. Genevieve were very helpful. One lady said to us out of the blue, "You look lost." (As a matter of fact, we were.) In Farmington this morning, we talked to a guy while I filled the fuel bottles and were offered unlimited iced tea in a cafe at the square.
[Farmington continues to roll out the red carpet for traveling bicyclists. See Sept. 10, 2009: "Old jail reopened as bike hostel in Farmington, Missouri."]
Personality change
But as soon as we entered the Ozarks, things changed. People stare, more like glare. Our waves, nods, and hellos aren't answered. Something's buggin' these people, and I think it's us.
The superintendent at the Johnson's Shut-ins State Park campground made us tent down in the group camp — primitive — area instead of up near the Winnebagos, etc., at the hot-and-cold-running-water section of the park. When we took off on our bikes to explore the shut-ins (the rocky rapids of the river) a ranger told us we'd have to walk. The supe drove up later in his pickup truck to find out about us — not a nice friendly "Hi, how are ya" — but a minor interrogation. As he was leaving, we asked if he could give us a lift to the showers: "I can't give civilians a ride in a state vehicle."
We took off early this morning. Although Ste. Genevieve is a historic town with lots of touristy possibilities, we were both itching to go.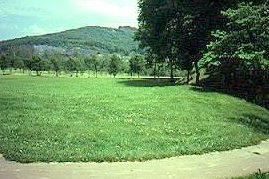 We did stop briefly at Pilot Knob (above), site of a Civil War battle, one of the many military fiascos of that war. I'd just call it a waste of life. Essentially, a superior force of Confederates attacked an earthen Union fortification. The Union repulsed them, then slipped away in the night. The Confederates didn't realize until the next day that the Union Army had gotten away. The cost: 213 Union casualties, 800 to 1000 Confederate.
Hit some headwinds, which didn't become a factor in the hills. The grades aren't short, but we haven't faced any 4 or 5 mile climbs yet, like in the Appalachians.
---
Headline: June 6, 1984 —
Indira Ghandi sends in troops to remove
Sikh protesters who had taken over the Golden Temple, a holy Sikh shrine.
(About 80 troops and 500 civilians died in the battle; later Ghandi was assassinated
by her Sikh bodyguards, causing reprisals that killed 3,000 Sikhs across the country)
---
Bruce's Journal
Our lay-over in Carbondale didn't seem to do my body as much good as my mind. I've been sore in the legs and ass for two days, and haven't felt too energetic. Still, we made our 75 miles today to Johnson's Shut-in State Park in Missouri.
We are camped next to about 20 Boy Scouts, and one who came over had the pubescent cracking voice that can mortify a 7th-grader. Bis and I had to keep from breaking up, but I felt sorry for the kid. He was the only one with guts enough to come over and strike up a conversation.
The people we see along the way here are very nice and are interested in our trip. Yet, the Missouri drivers are not too courteous. They all seem to have a tendency to not give you any berth, and some have yelled at us from their cars–mostly kids, though.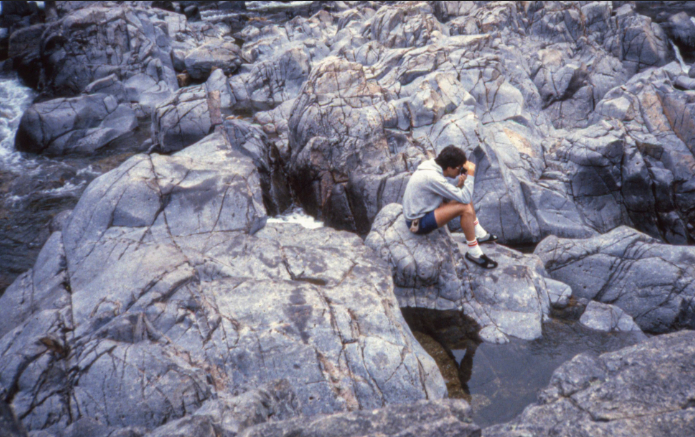 Expecting rough terrain
We are approaching the Ozarks and were expecting rough terrain today, but it really wasn't that bad. Still, I seemed to be tired most of the day, especially after lunch in a nice town called Farmington.
If you didn't know any better, this section of the country could be Virginia. The mountains aren't as high, but they roll gently for miles and are surrounded by farms and planted fields. We shall see what the remainder of the Ozarks hold.
Had a brief tour of St. Gen this morning, topped off by breakfast in an old-time bakery. It was nice, but too much sugar for biking. Tonight we were back to spaghetti for dinner. It tasted great and will provide good energy tomorrow. We picked up an onion, pepper and a pound of frozen ground beef, which thawed during our last 15 or 20 miles and was ready for the frying pan when we got camped. Again I over-ate and was uncomfortable. I'll never learn.
It didn't rain today, but sprinkled slightly once we camped. Hopefully, tomorrow it will be clear and less humid. Today was dripping with humidity and in the 80s.
Local dialect
People in Missouri also say "you'ins" for "you all, or "all of you." However, there is very little in the way of an accent, as in Kentucky and Virginia.
Example: "I'm tarred (tired) and I'm fixin' to take a notion to lay down so's I can die-jest my supper."
I'm waiting for our laundry in the dryer. It's getting dark and I'm tarred.
I'm not sure, but we may have passed through another time zone, making us two hours difference from home. I'll have to check on that. Maybe it's just oxygen deficiency. Over and out.
Tomorrow:
Day 26 — Ups and downs in the Ozarks