Thursday, June 7, 1984
Johnson's Shut-ins to Owl's Bend campground, Mo.
43 miles
Locator map
I'm reprinting the day-to-day journal entries of a cross-country bike tour my friend and I took in 1984. More about the TransAmerica Tour 1984
Gene's Journal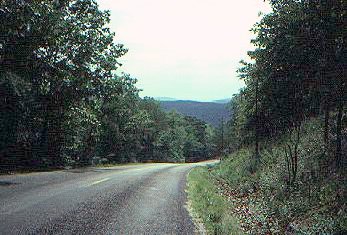 If you could pick a time to be sick, it probably wouldn't be the day you're pedaling the rollercoaster hills of the Ozarks.
We left Johnson's Shut-ins in a light drizzle and immediately started climbing. A little while later, a carload of Boy Scouts who we camped with the night before pulled up alongside me, and they said my friend was way down the road. I waited for him, and when he caught up, Bruce said he wasn't feeling well. After that, we took it real slow.
We stopped at Wisdom's Cafe in Centreville for a second breakfast. Afterwards I went to mail some postcards and pick up some grub, and when I returned Bruce was sitting lotus-style with his back against the wall of a building, fast asleep. We pressed on when he woke up, but he quickly fell behind. I stopped at a rest stop where a couple of locals pulled off the road. We talked, they offered me a beer, which I declined, and they left. Next a mother with her small daughter drove in, and we talked for awhile. Finally Bruce showed up, and we agreed to pull in at the next motel or campground.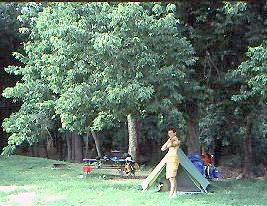 That was Owl's Bend on the Current River. This US Forest Service campground is primarily a stop for kayakers and rafters navigating the Ozark National Scenic Riverways, but it worked well for us. No showers. We just waded about knee-high into the river, sat down, held our breath, and plunged underwater. The water is freezing. The Dr. Bronner's peppermint biodegradable soap got us clean, though. It was very refreshing and even made Bruce feel better.
---
Headline: June 7, 1984 —
New England Journal of Medicine says radon,
a common radioactive gas emitted from the soil,
can cause up to 10,000 deaths a year among nonsmokers.
---
Tomorrow:
Day 27 — Beautiful scenery and never-ending hills