Saturday, June 9, 1984
Houston to Lazy Louie's Bicycle Camp, Mo.
50 miles
Locater map
I'm reprinting the day-to-day journal entries of a cross-country bike tour my friend and I took in 1984. More about the TransAmerica Tour 1984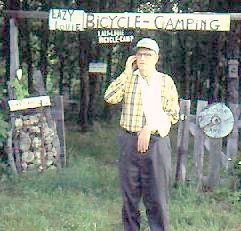 The Ozarks are starting to level out, and we were on pace for a 90-mile day when we saw the homemade sign on Route 38 between Hartville and Marshfield: "Lazy Louie Bicycle Camp." It was only early afternoon, but we knew we had to stop; we had told the Cookie Lady back in Virginia that we'd check in on him.
Lazy Louie opened the bicycle camp in 1976, the first year that cyclists started passing through on the Bikecentennial route. A eastbound couple who we met in the morning called the camp "kind of rustic." The camp is an overgrown woodlot across the road from his house and barn. There's a shelter, picnic table, and shady grassy areas for tents. You can tell he has put a lot of work into it over the years.
Until this year, Lazy Louie serenaded the guests with songs he played on his old Gibson guitar and helped repair bicycles. He told us that he used to work on all the brands — "P. Joe" (Peugeot), "Motor Pecans" (Motobecane) and "Trucks" (Treks). He suffered a stroke last December, and now all he can do is tell stories and give advice.
When we told him about the ferry over the Mississippi being out of service, he said that's something we should already have been told. He sees that as one of his duties, serving the bicyclists and passing along information about dangers and potential pitfalls facing them.
Words of wisdom
— If a dog is chasing you, just point your bicycle pump at him. Dogs in the Ozarks have seen what a shotgun can do and will probably back off;
— When pedaling across Kansas, ride out in the road on the right car-tire track when you can. Car tires will pick up all the Texas tacks (goathead thorns), instead of your tires;
— Always carry jars of peanut butter and honey with you; they provide lots of energy and you'll never go hungry.
Cold shower
We had no sooner pulled up to the gate than Lazy Louie came sauntering across the street. He announced the campground was free. He gave us a quick tour and showed us the showers. We asked if there was hot water. "Well, there's the hot water tank." We soon learned that the hot water tank wasn't hooked up. Later he asked, "How'd you like your hot showers?"
He gave us some fresh eggs and a head of cabbage (we had no idea how to make that into a meal). After dinner, we walked over to his house for a cup of coffee and some brownies his wife had made. We bought a couple of postcards and a homemade tape ($6) he made of his songs. He taped his songs before his stroke; now he mixes the tunes in different order, with new jokes, so that no two tapes are the same. There are signs posted for his tapes all over the campground, even in the outhouses where he has your undivided attention.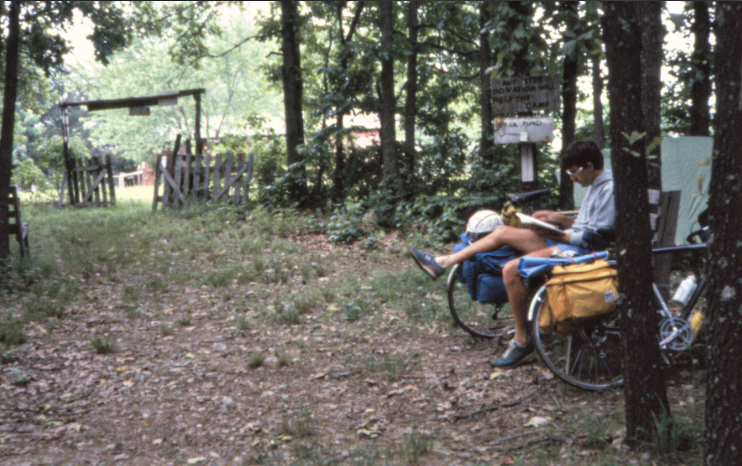 TransAmerica statistician
If the Cookie Lady is the spiritual grandmother to all the bicyclists on the TransAmerica route, Lazy Louie is the entertaining uncle. He's also a recordkeeper for the midsection of the route: Oldest cyclist – 76. Youngest – 16 months. Earliest cyclist – April 1. Latest – November 7. Heaviest – A guy carrying a castiron skillet. Strangest travelers – The group of Frenchmen rollerskating across country who showed up wearing speedo style swimsuits.
He's also the poet laureate of the TransAmerica Route. Many of his songs have original lyrics concerning bicycle touring, and he penned the following:
The Biker's Dream
All the roads are downhill,
The dogs all have rubber teeth
And peanut butter is 10 cents a jar.
---
Headline: June 9, 2007 —
As gasoline prices average $1.26 for regular,
some 107 million Americans are expected to take
at least one round trip of more than 200 miles during June, July or August.
---
Bruce's Journal
Camped here at Lazy Louie's Bike Camp just outside of Marshfield, Mo. Louie is a legend among bikers. He is 72 and recovering from a stroke he had last Christmas. He's lost the use of his left arm and hand, which is a shame because he has played the guitar for 60 years. In fact, he has made a tape of songs and stories about the Trans-Am trail which he will gladly sell you for $6. We will buy one.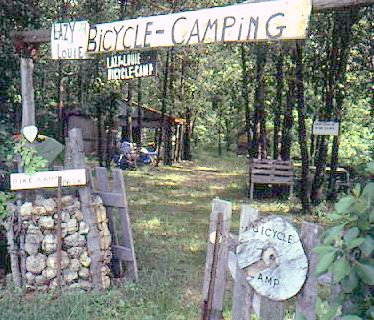 We got here about 3:30 or so and Louie told us all about how he came to run a bike camp and about all the different folks he had seen: the Frenchmen on roller skates, the man cycling with a ham radio (that didn't work) and about people riding the hills with their "stump-pulling gears."
Across from his house and barn (the barn is where you "register," where he sells post cards and keeps his bicycle memorabilia) is the actual camp, built by Louie in 1974 or thereabouts. There are out-houses, a shelter with tables and old sofas, a very uncomfortable wire hammock, bird houses, bulletin boards and a mail box. All made from assorted scraps.
"Everything you need is over there," he said [referring to the jerry-built camp]. "All you have to do is look for it."
The only thing Louie doesn't have is hot water for showers. This was the third cold clean we've had in 4 days, I think. Anyway, it made me scream when I finally worked up enough nerve to get under [the outdoor shower head he had hooked up behind the barn].
Long lunch break
Today's ride was an easy 80 miles. We made 40 of it–to Hartsville–by 11 a.m. and had lunch and sat around Swain's Cafe until 12:30. Then we laid around in the shade until almost 2.
It was a hot, cloudless day today and difficult getting back on the bike after such a long break. Right outside of town we met a couple (school teachers, married; he was 53, she 52) riding East. They both had Cannondale bikes [at that time Cannondales were fairly new, and rare. Trek had the market cornered on touring bikes in 1984] and were both discouraged by the Ozarks. We informed them that it would only get worse for them.
They were getting two hours of college credit for their trip [they looked like they would have preferred to audit the class instead, though]. They were studying one-room school houses and old filling stations along the way.
More Louie
He says, "Now I'm gonna say . . . " that the Bike Centennial group will be here Monday night. "I'm gonna say they probably sent their two independents down the road already . . . " [He was talking about riders who hooked up with the tour group. Bis and I got such a kick out of the word "independents" that we would later refer to ourselves, proudly, in that way]
Louie has diabetes, so he can't drink beer anymore, and you can tell he misses that. He looks a little bit like an Ozark version of Rodney Dangerfield. He talks out of one side of his mouth, on account of his stroke, but his laugh is constant and vibrant. He used to farm the land. Now he collects Social Security and runs the camp. He told us to look for the wild turkey and deer tonight.
Tomorrow:
Day 29 — "Charmed by flat roads"