Wednesday, June 13, 1984
El Dorado to Hutchinson, Kan.
77 miles
Locator map
I'm reprinting the day-to-day journal entries of a cross-country bike tour my friend and I took in 1984.More about the TransAmerica Tour 1984.
Gene's Journal
We stopped at a cafe this morning for a long breakfast and fiddled around so we got a late start. Bruce later admitted he just didn't want to get going, given the accident yesterday on the busy highway. Who could blame him?
We strapped his bent wheel rim to his panniers and left, finally reaching County Road 88 and the TransAmerica Route. After going off-route and having to deal with all the trucks on the road yesterday, it was like being delivered back to a slower way of life. Traffic virtually disappeared and I could hear birds singing from the perches on fence posts. The tension left my body. Our road was flat and straight. We could see trees, towns, and grain elevators on the horizon and pedal for an hour before we reached them.
Our first stop was Newton, a railroad center, about 25 miles into the trip. We found a bicycle shop and stopped so the guy there could possibly fix Bruce's wheel. The owner had every tool imaginable, except a bike stand. To work on a bike, he'd suspend it from chains hanging from the rafters.
Jelled seat cover
Although he couldn't fix Bruce's wheel, I made a purchase to fix my butt. I had mailed home my sheepskin bicycle seat cover after we left the Appalachians, and some rough roads after that had me wishing I hadn't. Here I invested in a Spenco seat cover, which felt like sitting on jelly. I could immediately sit comfortably again.
The bike shop owner put us in touch with a shop in Hutchinson. Instead of taking US 50 directly, we avoided traffic by zigzagging by way of Hesston and Buhler. But we had to veer off the TransAmerica Route again, but this time we found a quiet road… quiet except for the wind.
We were blessed with tailwinds, but they got so strong that the cottonwood seeds and other light road debris actually blew past us. The temperature dropped and the sky darkened. When we reached Harley's bike shop in Hutchinson, the owner told us a tornado warning had been issued.
Another helpful person
Harley — that's his nickname because he used to race motorbikes — stayed open late to help us and fiddled with Bruce's wheel for a couple of hours, but fixed it. He'd been counting the day's receipts when we got there and left a wad of cash out on his desk while he worked on Bruce's bike.
Harley was added to our ever-lengthening list of people who trusted us and went out of their way to help us. It had happened a few times in the first month of the trip, but it had been a daily occurrence so far in Kansas.
Later he gave us the keys to the Lutheran hostel next door where we spent the night — he didn't think camping outdoors was a good idea in this weather.
Hutchinson sits atop a huge, underground salt mine, which explains its nickname Salt City. You can take a tour.
---
Headline: June 13, 1984 —
Racine school teachers say they'll fight the decision
to ban five textbooks, which a board member said had
"funny pictures of Republicans and nicer pictures of Democrats."
---
Bruce's Journal
I set out from El Dorado with my bad rim strapped to the bike and my new cheap wheel on the front. We were 45 miles to Newton in a stiff wind, so we got out the earphones and tuned out. There was nothing but wide open country between towns, so there was nothing else to do [the earphones are potentially disastrous, because you can't hear cars approaching from behind you; it was not something we often did].
Luckily, there was a decent bike shop in Newton and the fellow there put my wheel in semi-decent order in exchange for the other wheel, which I had paid $20 for just the night before. Bis bought a Spenco seat pad there to ease the blister pain he had developed, and I also got a new pair of gloves.
BAK cyclists
We ran into the Ride Across Kansas bikers, about 200 of them traversing the state in eight days. We pushed on another 40 miles or so to Hutchinson, where we were told about a hostel run by a Lutheran church. For our last 10 miles or so, around 6 in the evening, a storm was brewing hard to the east. The wind pushed us right into town. We learned later there was a tornado warning in effect, and the weatherman on the radio suggested that it was a good time to be indoors with all family members.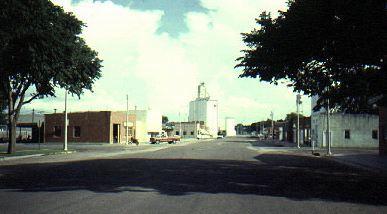 We were at Harley's Bike Shop by this time. Harley was affiliated with the hostel, and was the best bike mechanic I have ever seen. I bought a new front brake from him, and he fixed–I should say re-fixed–my wheel almost perfectly. And that was no small feat considering how badly it was "tweaked."
Harley's history
We were at the shop until after 10, and Harley showed us all his fancy bikes and told us about his motorcycle racing days and his experience with the bike effort for the Olympics. He was truly an excellent mechanic and a fine fellow. His father, also an avid motorcycle rider and original owner of the bike shop, named his son, appropriately, Harley.
The hostel, a house next to the church that was also an office and counseling center, was comfortable. We had the key and the run of the place. It was after midnight before we got cleaned up and to bed, though, and we were up at 6:30 the next morning and covered 113 miles that day to Lacrosse.
Tomorrow
Day 33 — "Don't fence us in"