Thursday, June 21, 1984
Royal Gorge to Maysville, Colo.
62 miles
Locator map
I'm reprinting the day-to-day journal entries of a cross-country bike tour my friend and I took in 1984. More about the TransAmerica Tour 1984
Gene's Journal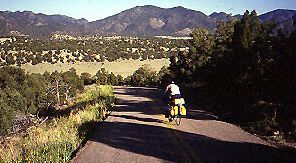 The climbing begins in earnest today, but we start with a long, cold, downhill after crossing the Royal Gorge bridge, touted as the world's highest suspension bridge. The winding road takes us back down to the elevation of the Arkansas River.
Along US 50, huge red outcroppings of rock towered over the road. The river rushed alongside. We could hear it as we pedaled upstream on the gentle grade. Down here we could look up the valleys sometimes and see snow-capped peaks of the Sangre de Cristo mountains.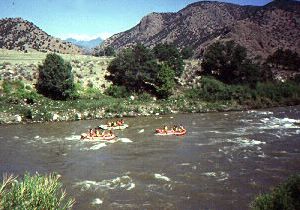 We stopped for snacks in Texas Creek and Cotopaxi. Several groups of rafters passed us, shouting and throwing bucketsful of ice cold water at each other. We talked to a woman who was drinking a cup of coffee to prepare for guiding her first group of rafters today. She was a little nervous.
We ate lunch at Salida, and five miles later, at Poncho Springs, the gentle grade ended as the main stem of the Arkansas River forked north and we headed due west toward the spine of the Sangre de Cristo's and Monarch Pass. The road still cut through a valley, but the mountains started to close in on the sides and we focused our attention of the snow-covered peaks ahead.
We called it quits at the Ponderosa Lodge and Campground near Maysville. We ate dinner at our campsite in a pine forest, but later visited the small bar at the lodge, which was populated by the top salesmen of the Rainbow Vacuum Cleaner Co.
---
Headline: June 21, 1984 —
Doctors warn that the breakdancing fad can push the body
beyond its endurance, causing torn ligaments,
broken bones and more serious injuries
---
Bruce's Journal
Bis and I are about half drunk on two beers from the bar of the Ponderosa. We are camped at the Ponderosa Ranch in Maysville, about 9 miles from the crest of Monarch Pass. We came about 60 miles today through the Arkansas River Valley, and had a fabulous ride. Stopped for lunch in Salida and then climbed gradually 1,000 feet to Maysville; we are above 8,000 feet now and Monarch is past 11,000. I can feel the altitude effecting my breathing. Standing up in the pedals, it takes me longer to catch my breath.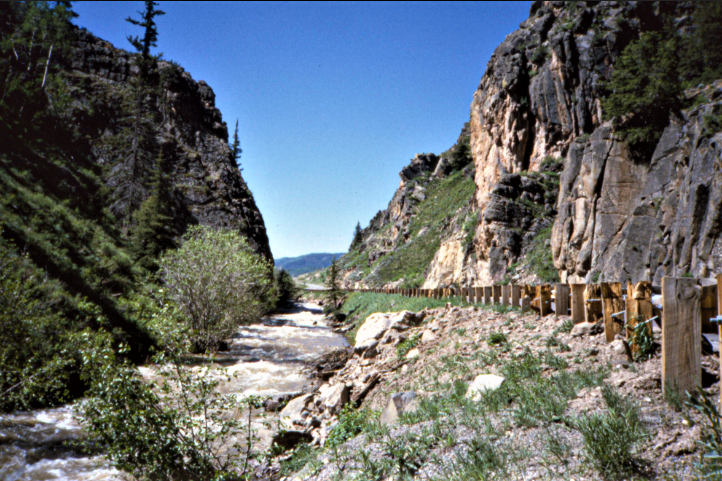 We saw a lot of rafters and kayakers today, running the swift and treacherous-looking Arkansas. In fact, a group of Rainbow Vacuum salesmen at the Ponderosa Motel had been out in Brown's Canoe in the afternoon. One guy said he was so scared at one point that his "balls were up in my throat."
Olympic torch in neighborhood
The Ponderosa is primarily a ski resort, but it gets some summer trade. It's nice and peaceful here [notwithstanding vacuum salesmen].
We are very close to seeing the torch runners again, but we will pass this time. They are scheduled for Poncha Springs at 6 p.m. and that is 6 miles back the way we came. So, close but no cigar. Who knows, our paths may cross again before the coast.
Spaghetti for dinner tonight, something different. However, we may, if we have time, mosey up to the lounge for coffee and dessert and perhaps some mindless conversation with the vacuum salespeople. Anyway, I am more interested in getting clean than getting dessert. I'm feeling and smelling pretty funky after two days without a shower.
---
---
Chilly weather
I can hear the river running from our campsite and it's getting cool now. Good sleeping weather here in the Rockies. This morning I had to put on my polypropylene and wool sweater it was so chilly. I'm sure it will repeat tomorrow. No thundershower this afternoon, which was nice. Again it must have reached 90 degrees, but there was no humidity. You are hot as you ride, but you barely sweat at all, even when you are working fairly hard.
Bright and early tomorrow we tackle the highest mountain the trip has to offer. I'm going to eat the high-energy snacks Marie sent–that will get me over the hill.
Tomorrow:
Day 39 — It's all uphill now