Friday, June 22, 1984
Maysville to Elk Creek BLM campground, Colo.
65 miles
Locator map
I'm reprinting the day-to-day journal entries of a cross-country bike tour my friend and I took in 1984. More about the TransAmerica Tour 1984
Gene's Journal
This is one of those days that I'd anticipated ever since we planned the trip. We crossed the Continental Divide at Monarch Pass under our own power at 11,312 feet. I knew all along we could do it, I just didn't know how hard it would be.
Now, sitting at the hot and dry Elk Creek National Park Service Campground, I realize that we must have been in better shape than I realized. It's sort of all downhill to the Pacific, although we'll have plenty of other passes until we get there.
We hit the road at 7, leaving the Ponderosa campground at about 8,500 feet. We made 7 miles to Garfield, at 11,000 feet, in about an hour. It took us 90 minutes to cover the last 6 miles to the pass.
I worked those miles entirely in my easiest 2 gears, sitting in the granny and standing in the other. Not much traffic on US 50 this morning — sunny and cool. I wore shorts, my polypro long-sleeved shirt and a T-shirt. I wasn't too warm. Near the top, we followed many switchbacks, and I noticed I'd gasp for breath every time I interrupted my heavy breathing for a gulp of water.
We arrived about 10 and didn't leave until noon. We hung around just to savor the moment. A tourist from Indiana took our pictures for us, and we ate in the cafe. Finally, we pulled on our sweats for the downhill ride.
For the first 3 or 4 miles we rode very carefully, feathering the brakes on and off and stopping to admire the scenery or talk to approaching cyclists. We soon tired of this slow pace and just let it all hang out. Our bikes whipped downhill; we passed campers and trucks. Soon aspens replaced the evergreens flanking the road and suddenly we were down to pastureland.
After eating at Sargents, the next 2-3 hours brought us back to reality. Headwinds. We stopped in Gunnison for supplies, then kept riding along the Blue Mesa Reservoir to the campground at Stevens Creek. (below)
Arid and barren, this is a beautiful spot. We can see all the way across the man-made lake to hills on the other side. So different than last night's camping in the forest.
Headline: June 22, 1984 —
Rain pounds the Midwest for the 9th straight day,
flooding millions of acres of farmland in Kansas,
Missouri, Iowa, Nebraska and South Dakota.
Bruce's Journal
Cold mornings in the Rockies! We tackled Monarch and reached the summit by 10 a.m.. It wasn't nearly as bad as Virginia and Kentucky hills. But it was far more beautiful. There was snow everywhere at the top. Many pictures, naturally. The downhill, probably close to 10 miles, was fabulous, although from Sargeants to Gunnison was anything but downhill, plus we picked up a stiff westerly in the afternoon.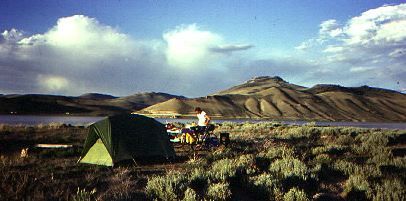 It was still fairly cold on the descent. I wore my sweat pants and sweater, and constantly hit the brakes, not so much because of the cold but just to stay in control and not get going too fast. My hands cramped from pulling on the brakes so much.
Gunnison is a neat town, a college town with lots of shops–and the fireman's convention this week. The trucks were all over town hosing each other down.
Bike shop
I went to the local bike shop because I was getting increasingly frustrated by the grating in my pedals. I am convinced it's really slowing me down. The guy at the shop said my back derailleur was all bent up (from my truck accident, no doubt) and he straightened it and the dropout. The grating is still there, but I can't help think that a straight derailleur will help my cadence.
From Gunnison, we made it to the beginning of Blue Mesa and Blue Mesa Lake. The water meanders in and out of all these bluffs and buttes and volcanic-made formations. It's an unbelievable place and stretches for 30 or 40 miles, I think, all the way to Montrose.
We camped at Steven's Creek on the Blue Mesa Lake. We made 60 miles yesterday and it was a very relaxed ride, for the most part. We have slowed down since Kansas because there's so much more to see here. And it should continue that way until the desert–lots of sights here.
We have another pass–Red Mountain Pass–to climb before Silverton, and we are told it makes Monarch look like an ant hill.
So we won't have gotten off so easy after all.
Tomorrow:
Day 42 — Fellow travelers in stunning landscapes