Monday, July 9, 1984
Desert View to Canyon Village, Ariz.
22 miles
Locator map
I'm reprinting the day-to-day journal entries of a cross-country bike tour my friend and I took in 1984. More about the TransAmerica Tour 1984
Bis' Journal
It's nearly two months into our cross-country bicycle tour, and I finally get off the bicycle for a hike. There's just no way to get into the Grand Canyon on a bike.
Before dawn Bruce and I broke camp and started our ride along the South Rim road to Grand Canyon Village. It was a short ride but it took forever — just too many picture possibilities. Dawn and dusk are the best times to shoot the canyon because the low sun adds shadows that give depth and contrast to the formations.
We reached the campground at 9 a.m. and there already was a line for camping spots. Bruce checked further and learned we didn't have to wait. Because we're bicyclists, they let us right in for $2 and let us camp in one of the two hike-and-bike campsites. The deal was that the campsites had to hold anyone who showed up.
After setting up camp, we went over to the motel and found the Brits' big blue van. We showered in the room and Bruce had lunch with them. They were off to the Phoenix airport to put Annabelle on a jet to London and pick up Geraldine's cousin, who would ride the rest of the trip. We all made tentative plans to meet up, if possible, in the small town of Aguila in four or five days.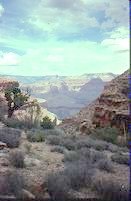 I took the crowded shuttle bus as far is it goes and got out for a hike down Hermit's Trail from Hermit's Rest. The trail switch-backed down about 2,000 feet down to the redwall formation, and I followed that on a side trail over to a place called Dripping Springs. The springs are at the end of a box canyon and the water trickles down from above. A good place for a cool rest and a drink.
I had read that you need to allow two hours up for every hour you've hiked down into the canyon. Conditioned by eight weeks of cycling, the trip back took 2 1/2 hours, same as the trip there. As luck would have it, Bruce got onto the same shuttle bus back to the campsite. We both noted that once you're off the bus, even the trails along the rim are all but abandoned. I saw five people on my 5-hour hike. No Winnebagos. No car horns. No pickups driving too close. We found it strange that in a National Park full to capacity with people, we had solitary ventures that day.
---
Headline: July 9, 1984 —
John McEnroe beats Jimmy Connors in Wimbleton Tennis Finals..
---
Bruce's Journal
We rose early to see the sun rise at Desert View, and it was beautiful. We had 25 miles to ride along the Canyon's east rim before reaching Grand Canyon Village and Mather Campground. The ride was mostly downhill and we stopped at all the overlooks for pictures. We arrived at 9 a.m. and there was already a line of people–possibly 30 or 40–waiting to get a campsite. Luckily for us, bikers always have a spot, along with back-packers, and they ushered us past the line.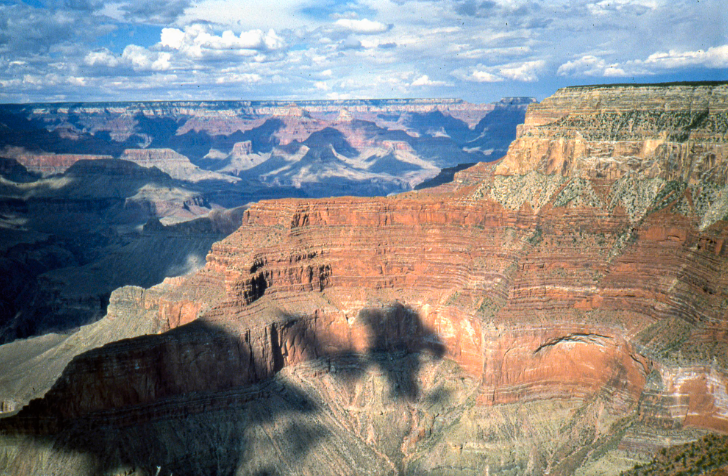 We pitched out tent at 9:15 a.m., which was an unusual feeling, and then went to find the London crew. They were leaving for a hike in the canyon as we arrived, but we used their room for showers. How nice.
Geraldine wanted to make Flagstaff by this evening, so they left in the early afternoon. We will meet them again Sunday night in Quartsite.
Bis hiked down Hermit's Rest trail and I hiked along the West Rim, from Hermit's to Abyss. We happened to bump into each other on the return shuttle around 6:30 and got dinner at the Bright Angel Lodge. There are so many people here at the lodge, but on the rim trail, I barely ran into anyone. It was like having the entire Grand Canyon to yourself. Bis had the same experience, and it worked out very well that way.
Tomorrow:
Day 59 — Through hail to Flagstaff