Thursday, July 12, 1984
Flagstaff to Cottonwood, Ariz.
48 miles
Locator map
I'm reprinting the day-to-day journals from a cross-country bicycle ride my friend and I took in 1984. Go here for more about the TransAmerican Bicycle Tour 1984.
Bis' Journal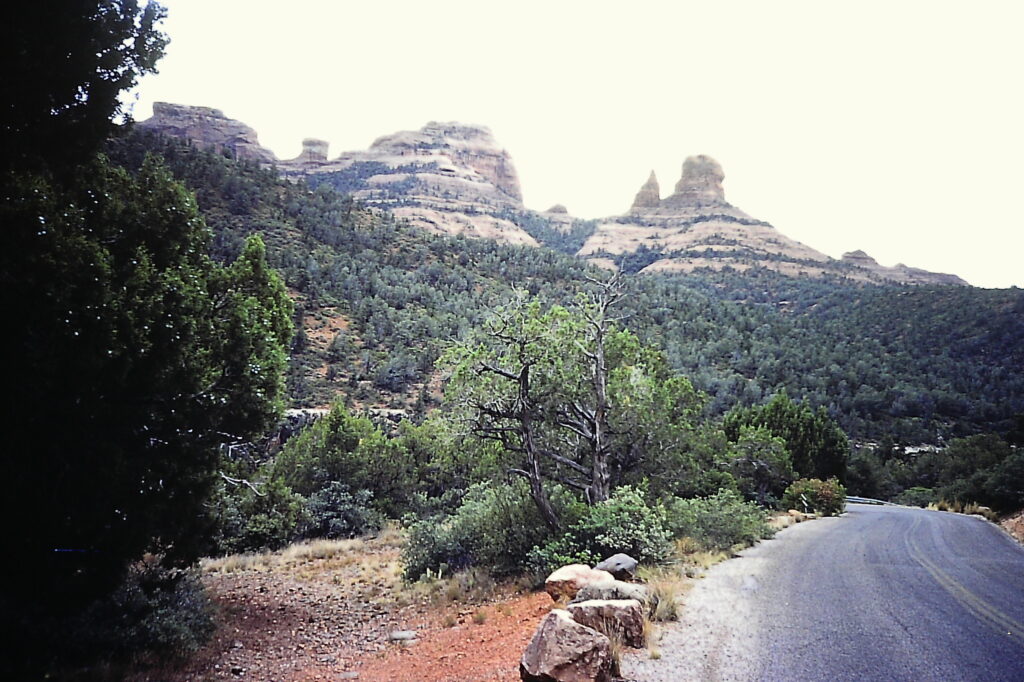 We've liked everyone who has crossed our path as we cycle cross-country. Today is the exception. The scenery here has been beautiful, though, and the terrain has been in our favor.
We faced a major chore breaking camp at the Motel 6 — our laundering and bike cleaning resulted in our crap strewn from one end of the room to the other.
It was sprinkling when we left (isn't this Arizona, why so wet?) and we headed south on Route 89A. We passed through a quiet Ponderosa forest and reached Oak Creek Canyon, which marks a 1,600-foot descent over the Mogollon Rim. The rim sits at the southern edge of the Colorado Plateau, which encompasses the Four Corners region. We've been pedaling across the plateau since leaving Albuquerque.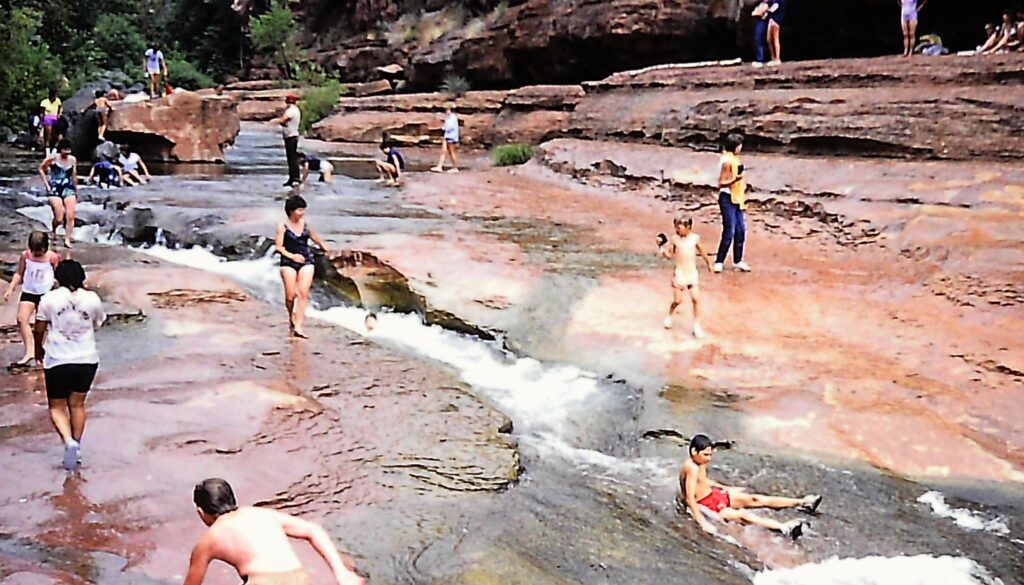 We stopped at an overlook with views of the road zig-zagging through forest and between red bluffs. We sped downhill and reached Oak Creek, which had cut through the rock to form slick chutes and slides where kids could swoosh down the stream in a natural water park.
Dead Horse
Still heading downhill, we passed through Sedona and finally made Cottonwood, a small town on the Verde River. I like the place names here: Cottonwood for the trees that offer shade along the stream banks; Verde, doesn't that mean green in French, Spanish also? These may evoke pleasant thoughts for early settlers, but what about our campground, Dead Horse Ranch State Park?
To get there, we had to cross the Verde, but not on a bridge. The river flowed over the road at an 1- or 2-inch depth. We walked across in bare feet and had a hard time staying upright as we slipped on algae and silt.
Fellow cyclist
At our campsite we met another cyclist named Jim. He's about 20 and a college student from Jacksonville, Fla. It's not real clear, but he was riding to Los Angeles with some friends, and for some reason they parted ways. I soon got the impression they must have ditched him.
I liked him at first because he'd quote Lazy Louie at length and seemed to enjoy the whole bike touring thing. He started to set me off with his constant jabbering and his obvious prejudice against the Native Americans who live out here. He called them lazy, dirty, beggars. I stood there slack-jawed, not believing that anyone could be so biased.
He had a great idea… we could all ride the rest of the way to LA together! Bruce and I kind of shuffled our feet. "Aw, we're probably too slow for you…" "We're not taking the direct route …" How else can you ward off a trail leech?
We had spaghetti for dinner and washed it down with some wine we bought at a store in Cottonwood. That's a "nutritional supplement" we picked up from our much more likable German companions earlier in the tour.
---
Headline: July 12, 1984 —
The government says automatic seat belts or air bags
must be provided on all cars sold in the US.
---
Bruce's Journal
Woke up early and had breakfast and then began the chore of putting everything back on the bikes. By the time we were ready to leave it was raining. Arizona, the dry, hot state!
Every day since we have been in this state it has rained on us.
We got started eventually and rode through an evergreen forest to Oak Creek Canyon–7,000-foot elevation. From there we coasted 16 miles to Sedona, a cute tourist town where rich Phoenix folks vacation–or at least it seems that way. Oak Creek itself was beautiful; lots of forest and red-rock formations that made you feel as though you were cycling through the Grand Canyon.
At Oak Creek we met a biker we had seen at the Canyon. Jim is his name and he started in Jacksonville, Fla. He is about 20, I think, and there is something of a generation gap between us. We camped with him at Cottonwood (in Dead Horse State Park) and he seemed to be looking for a free ride in the way of food and the camp fee..
Dangerous crossing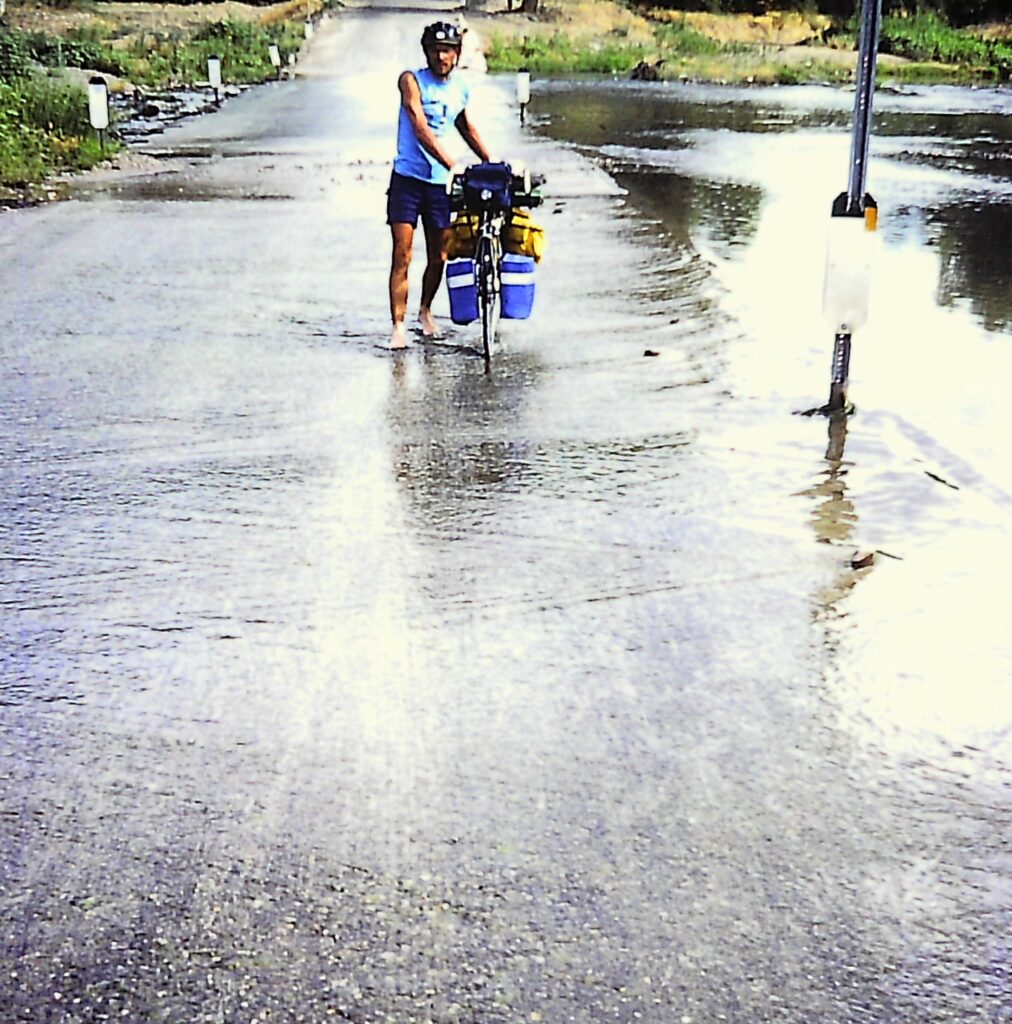 The road to Dead Horse Park had a water crossing. The river flows over a concrete slab, which is a poor excuse for a bridge [especially when the water crests it]. We had to walk the bikes across barefoot. It was slippery [the water was only about four inches, about ankle-deep, but it was running pretty fast] and could have been dangerous, but we went slow and made it without incident.
As soon as we made camp, it rained on us for about two hours, while we cooked and ate–you guessed it–spaghetti. Also had a bottle of vino.
The park had great facilities–hot showers, a sink with hot water to wash dishes…
Tomorrow
Day 62: Ghostly pedaling uphill to Jerome