Sunday, July 15, 1984
Aguila to Quartzsite, Arizona
66 miles
Locater map
I'm reprinting the day-to-day journal entries of a cross-country bike tour my friend and I took in 1984. More about the TransAmerica Tour 1984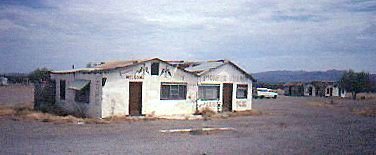 Bis' Journal
I awoke about sunup this morning and … no Bruce.
It had been so hot and dry, we didn't see the need to pitch the tent last night. We threw the tarp down and just slept on that, until, at some point in the night, I realized all kinds of insects were walking around on me. I took my mat and put it on a picnic table and went back to sleep. Trail leech Jim had already booked the other table.
Bruce woke up later, about 2 a.m., for the same reason I had, discovered the picnic tables already taken, and took off for a ride. He ended up at an all-night cafe where a group of 20 Native American runners showed up. They're members of the Sioux and are running from the Dakotas to LA to protest the Olympic Committee not allowing them to participate in the Summer Games in LA as their own nation.
Where's breakfast?
Later, Bruce said he visited the motel where the gang from the UK was staying, woke them up, and took a shower. In the meantime, I'm left at City Park without Bruce and without breakfast, which Bruce inadvertantly took with him in his panniers.
They show up and I'm pissed off. I stay that way until I've eaten. Fortunately trail leech Jim has taken off, so I don't have him to deal with.
As always, it was good to get back on the road. This area, called the Arizona Outback, is bone dry. Still there's a lot of agriculture here because of irrigation.
Salome
At one of the towns we passed, we saw billboards of a cartoonish frog laying back relaxing (I'm thinking of my toad) and references to "Salome, Where She Danced." (Some online research in later years explains the frog and the town name and slogan. Also the name of a movie starring Yvonne De Carlo, which involves this town in Arizona. )
Further on we found towns marked on maps that didn't correspond to anything in reality. At Hope, we saw only a couple of vacant stucco homes out in the scrub. There was an old filling station, pumps removed, and a faded welcome over the door.
I've never felt this hot. I can feel the heat on my eyelids when I blink.
Quartzsite
After an uncomfortable 10 miles along the interstate, we reached Quartzsite. We stay at a weird place that's a trailer in a mobile home park. The thing doesn't have air conditioning, but somehow it's water cooled. But it ain't. It feels as hot inside as out, and we leave the door open, which allows some ventilation that cools us off. When I took a shower, I really couldn't tell the hot water from the cold.
Who shows up at dinnertime? Jim. He found the van and tried to come in. He's had some beers at a nearby tavern and his speech is a little slurred. Widge and her cousin have heard our stories about his guy and turn him out. Bruce and I probably would have given in, but they want no part of having him around.
Bruce and I take one room and the girls the other. James, the cousin who's been driving, sleeps outside in the van. I think he has the best idea.
---
Headline: July 15, 1984 — Garry Trudeau, the creator of Doonesbury, says the comic strip will return in September after an absence of 1-1/2 years.
---
Bruce's Journal
Western Hemisphere Welcome Runners passed through at the cafe around 3 a.m. They are all Native Americans, mostly Sioux from South Dakota. They will arrive in L.A. the 19th. These were the people who wanted to enter their own team in the Olympics, but the Olympic Committee said they couldn't be separate from the U.S. team.
I got to the cafe about 2:30 because the ants and bugs wouldn't let me sleep. We decided not to pitch the tent since it was such a warm night, no chance of rain and we wanted to get an early start. It was a big mistake. I probably got 4 hours of sleep. But it was restless sleep. And when I was wide awake, I didn't know what time it was. I thought it might be 3:30 or 4 a.m., but it was only 2. So, with Jim and Bis on the only two picnic tables, I was at a loss.
All-night cafe
I got disgusted and took my bike out for a spin and found the all-night cafe. I ordered some pancakes and Product 19 with OJ and coffee. An early breakfast. The pancakes were horrible and I didn't finish them. But I got to talking with the cook/owner, a huge man from Alaska, and that passed the time pretty good. Then the Native American runners came in. Their group was about 20-strong. They each run 2-mile stints at 6 minutes a mile or less. The fellow I talked to was a Sioux from South Dakota, and very amiable for 3 a.m.
Some of the melon workers are rolling in for breakfast before they go to work. It's a long day for them. Most of them look Mexican or Indian and I understand there are a fair amount of Filipinos, too. There are four guys at the counter now, all wearing hats, none talking English. One guy has his work gloves sticking out of his back pocket. Two have plastic bags on the counter that probably contain their lunch. One of the workers looks young, maybe 16 or younger.
It's starting to fill up now. Lots of chatter in Spanish. I'm tired. Hopefully, I'll get a good rest in Quartzsite.
Sunrise
We set out at 7 a.m. I woke the girls up at 5 and the sunrise was very nice. The ride was not so great. It was, however, unbelievable, uphill most of the way, and although not ungodly hot, it was warm and humid so early in the morning.
We arrived in Quartzsite by 12:30 and had several beers outside the general store. We shopped for dinner (chili) and by 1:30 it was extremely hot, easily more than 100 degrees. We got a trailer/motel room to escape the heat and I went immediately to sleep, sweating all the while.
Jim finds us
Later, we all got cleaned up, drank a few beers, cooked dinner, and now are ready to retire at 9 p.m. Bis and I have the twin beds, Geraldine and Harriet are sharing the double. It is still hot, even after a second shower.
We did our best to avoid Jim, but he found us anyway. He knocked on the door while we were playing Scrabble and we pretty much ignored him until he got the picture. However, with Jim, he doesn't usually get the picture. Anyway, he went down the road, and with luck, we won't see too much of him again.