Monday, July 16, 1984
Quartzsite to Yuma, Arizona
88 miles
Locator map
I'm reprinting the day-to-day journal entries of a cross-country bike tour my friend and I took in 1984. More about the TransAmerica Tour 1984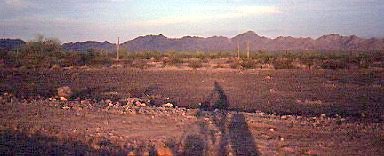 Bis' Journal
There are days on this cross-country trip that I anticipated from the first time I spread out the maps on the table in my apartment in Annapolis.
One was the climb up to the Blue Ridge Parkway in Virginia; another was going up and over Monarch Pass in Colorado. Today was another — 80 miles across the desert of southwestern Arizona where nothing was marked on the map except a thin line for Hwy. 95.
We were up before dawn today, filling our water bottles and two 2-quart blue plastic water bladders that we'd brought along for this occasion. We'd been planning on this stretch for months, and we had vowed we wouldn't depend on the van for support.
So the four of us slipped out of Quartzsite into the cool, dry desert morning air at 5:30. We rode by the light of the blazing red sky… dawn was still an hour away. The sun had just risen when we stopped at a ramada-style rest stop. No facilities, just a picnic table and garbage can. The can was open and sitting on top was an empty bag of Mother's Cookies — trail leech Jim's cookie of choice. Had Jim passed here in the night after we turned him out? Or was this a coincidence just to nag at our guilt? Jim had said he was heading to Blythe, not Yuma.
Few cars use this road (and fewer bicycles) through this area known as King of Arizona, KOFA. We four rode together — Bruce and I not wanting to over-exert and Widge and Harriet not wanting to fall behind. We'd leapfrog the van every few miles.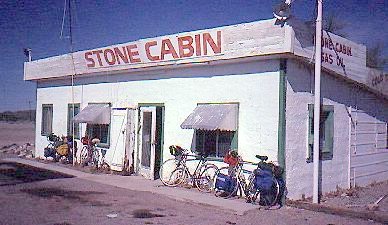 Could Bruce and I make it 80-some miles across the desert with the water we carried? We'll never know. Good fortune — in the the form of the solitary Stone Cabin service station and cafe — stepped in the way about 30 miles into the ride.
It was cool and dark inside this stucco building and we ate whatever they had and drank pitchers of iced tea. Fortified, we headed back out into the heat and proceeded down the highway.
The rest of the ride was uneventful. Widge and I stopped to wait for the others in the shade of a wall at the entrance to the Yuma Proving Grounds — the only shade we'd seen in miles. Back together again, we rode into Yuma, where the temperature was 104. No camping or trailers tonight. We found a Motel 6 with a pool.
---
Headline: July 16, 1984 — Democratic National Convention opens in San Francisco.
---