2019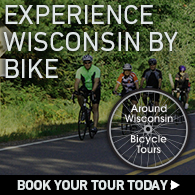 Old World Wisconsin explores that state on a 350-mile bike route that starts and ends in Madison with overnights. Presented by Pedal Across Wisconsin. Dates: June 2-8, 2019.
Door County Holiday visits the entire Door County Peninsula by bicycle, known as the Cape Cod of the Midwest. The loop bike tour begins and ends in Sturgeon Bay with three nights in Sister Bay. Presented by Pedal Across Wisconsin. Dates: June 17-21, 2019 and Sept. 9-13, 2019.
The Great Annual Bicycle Adventure Along the Wisconsin River (GRABAAWR) celebrates its 32nd anniversary in 2017. The 427-mile bike tour starts in Eagle River and ends at  Prairie du Chien, covering about 70 miles a day. Overnights in Rhinelander, Wausau, Wisconsin Rapids, Mauston, Baraboo and Spring Glen.  Dates: June 8-15, 2019.
Bike Northwoods Tour — The bike tour loop tours along the shores of Lake Superior. Mileage is 45 to 60 miles a day for 6 days cycling. Limited to 400 cyclists. Check website for route details. Presented by Bike Wisconsin. Dates: July 6-12, 2019.
Flavors of Wisconsin — This six-day bike tour visits cheese factories and microbreweries in south-central Wisconsin. Lodging in hotels, B&Bs and historic inns. Average 40 to 55 miles a day; some hills. Presented by Around Wisconsin Bicycle Tours. Dates: July 14-20, 2019.
Heart of Wisconsin Northwoods winds through forests and past a chain of lakes. Begins and ends in Rhinelander with 45 to 60 miles of bicycling daily. Two nights in Rhinelander and five nights in Eagle River. Presented by Pedal Across Wisconsin. Dates: July 21-22, 2019 and July 28-Aug. 3, 2019. 
Spectacular Annual Great Bicycle Ride Across Wisconsin (SAGBRAW) — The bike route explores the rural roads of Door County. The bike rides starts in Mishicot with overnights in Green Bay, Sturgeon Bay, 2 nights in Ellison Bay, Algoma and finish back in Mishicot. Presented by Bike Wisconsin. Dates: Aug. 3-9, 2019
Northern Woods and Waters — A six-day bicycle tour in northern Wisconsin. More than 50 of the tour's 300 miles are on trails in the Northern Highland American Legion State Forest. A shortened bicycling option is available on one day paired with a kayak adventure on a lake. Average 50 miles a day; lodging in hotels and lakeside resorts. Presented by Around Wisconsin Bicycle Tours. Dates: Aug. 10-16, 2019
Will to Ben — Two statues of cyclists riding penny farthings mark the beginning and end of this bike tour. Runs from Port Byron, IL, to Sparta, Wisconsin. Presented by Bike Wisconsin. Dates: Oct. 5-11, 2019
Domestique Tours by Shuttleguy offers three bike tours in Wisconsin — Bike Ride Exploring Wisconsin, Wisconsin Wine & Cheese, and Mississippi River Trail Fall Weekend. Contact the website for dates and other details
Other rides
BayCare Clinic Century Bayshore to Lakeshore — 100-, 60-, 30-, and 15-mile options from Green Bay to Lake Michigan and back.  Date: June 1, 2019
Back to Across State Bicycle Tours index