2019
Oregon Gran Fondo – June 1, 2019 This bike ride features 117-mile Gran, or 71-mile Medio routes and 40-mile Picollo all starting from downtown Cottage Grove. Depending on the route, the event has 2,000 to 8,000 feet of climbing. Part of the Oregon Triple Crown.
Pioneer Century — (Cancelled for 2019. Returns in 2020) Formerly the Spring Century, this bike ride features a 100-mile route around the Champoeg, Canby, and Molalla areas. Four shorter options are available. Portland Wheelmen Touring club.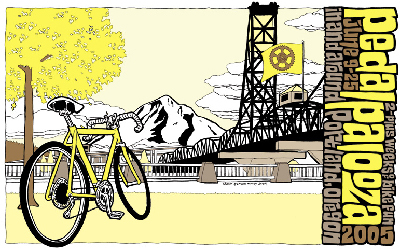 Pedalpalooza — All month Four weeks of bike fun in and around Portland, the summer program features more than 100 bike events for kids, families and adults in Portland and Vancouver, Washington.
Strawberry Century Tour — June 8, 2019 The bike tour features 8 options of various lengths and elevation gains on back roads of Linncounty and the Santiam and Calapooia rivers; sponsored by Santiam Spokes bicycle club
Team NPF Cycle in the Willamette Valley — June 9, 2019 The ride beginning in Independence Park benefits the National Psoriasis Foundation (NPF). Options of 10, 30 & 62 miles, followed by lunch, refreshments and live musicC
Great Owyhee Ride Against Hunger — (Retired) JStarting at the historic railroad depot in downtown Ontario, the event includes options for a century, metric century, 50-miler and a short family ride. Proceeds go to Oregon Food Bank, Southeast Oregon Services.
Tour de Fronds — June 15, 2019 Five bike ride options and an off-road route for mountain bikers highlight this event in Powers in southern Oregon. Road ride lengths of 30, 43, 63, 76, and 103 miles; two mountain biking options are the Big Tree/Flannigan Prairie Ride (55 miles) and the Rogue River/Singing Spring Ride (71 miles). Benefits local charities.
Columbia Century Challenge — June 15, 2019 A 100-mile bike ride through rural Columbia County. Starts and ends in Clatskanie.
Joy Ride (Cycle Oregon) – June 22, 2019 Cycle Oregon's one-day celebration of women and bikes. Three options of 16 to 65 miles through the Willamette Valley.
Gorge Ride — June 22, 2019 The Friends of the Historic Columbia Highway presents this 38.5-mile round trip. Starts at the Columbia Gorge Discovery Center in The Dalles.
Petal Pedal — June 22, 2019 Three mileage options for bicycling around Silverton — 30, 62 or 100 miles. Mostly flat riding in the Willamette Valley with a hilly option to Silver Falls. #
Northwest Tandem Rally— June 29-July 4, 2018 Four days of road riding on tandem bicycles. Based in Boise, ID, in 2019. Numerous supported rides.
Prairie City Bicycle Invitational— Dozens of mountain biking routes in and around Prairie City. Located on the TransAmerica bike trail and considered a wonderful area for road and mountain bike riding.
Jump ahead to July Bicycle Ride Calendar