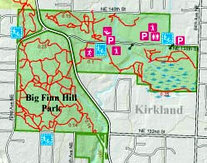 Public officials are looking for some input on mountain biking trails in Kirkland and the Spruce Railroad Trail over on the Olympic Peninsula.
Remember, if you don't speak up now, you don't really have a right to grouse later.
Big Finn Hill
At left is a bridge over Denny Creek in Big Finn Hill Park. It was funded and built by the Evergreen Mountain Bike Alliance in cooperation with neighbors and the King County parks department….