Updating to 2023
Tour de Lavender — Aug. 5, 2023 A metric century and family fun ride that starts at 400 W. Fir St. in Sequim and tours the numerous lavender farms in the vicinity. Part of Pedal Power Weekend that pairs with Ride the Hurricane. Benefits the Peninsula Trails Coalition (Olympic Discovery Trail).
Tour de Cure – Woodinville — Aug. 5, 2023 A charity ride — options of 15, 30 or 60 miles — to raise money for American Diabetes Association. Fulfill your mileage throughout the year and celebrate at the virtual event. Starts at King County's Marymoor Park Velodrome Shelter.
Ride the Hurricane –Aug. 6, 2023 This bike ride summits Hurricane Ridge Road in the Olympic National Park. The course up Hurricane Ridge Road is open to bicycles-only for this special event from 7 a.m. until noon; rest stops are available along the route. Part of the proceeds go to the Olympic National Park Fund to keep Hurricane Ridge open during the winter months
Blazing Saddles Bike Ride — 2022 dates to be annouced The ride starts at the Colville City Park and participants can choose from three options — 42, 68 or 100 miles. Also check for a virtual event. Presented by Rotary Club of Colville. #

Bicycle Weekends – Seattle — Aug. 19-20; Aug. 26-27, 2023 Lake Washington Boulevard is closed to all but local vehicular traffic from 10 a.m. Saturday to 6 p.m. Sunday from Mt. Baker Beach and Seward Park.
Obliteride — Aug. 13, 2022 Launched in 2013 to benefit the Fred Hutchinson Cancer Center, check the website for details about the 2022 ride. Both in-person and virtual rides are offered.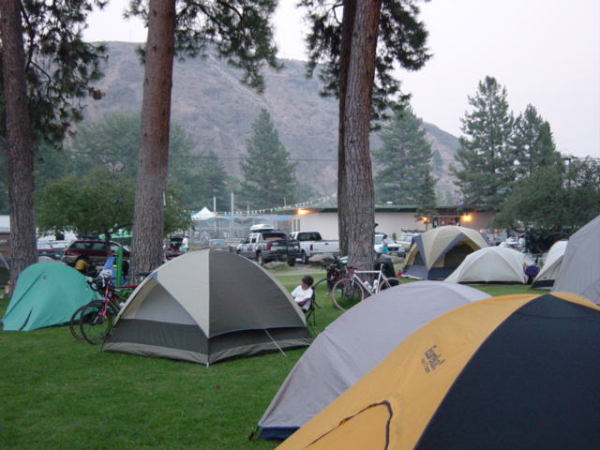 High Pass Challenge — Aug. 15, 2022 (it's a Monday) Breathtaking 114-mile ride through the Gifford Pinchot Wilderness Area, including the Mt. St. Helens National Volcanic Monument; 7,500-foot elevation gain. Starts in Packwood. Sponsored by Cascade Bicycle Club.
Spokane Summer Parkways — Ongoing. Howard Street from Riverfront Park to Corbin Park will be closed to all motor-vehicle traffic for Spokane's version of Ciclovia. (See also The Spokesman-Review, Feb. 14.)
Tour de Whidbey — Aug. 20, 2022 The bike ride features mileage options of 33, 50, 67, 100, or 162 miles, as well as a flat 10-mile route for beginners. Rides start at Coupeville Middle/High School. Six distance options from 162 to 10 miles. Well-stocked rest stops are located about every 15 miles.
Squeaky Wheels' Bike for Pie — 2022 date to be announced A family bike ride on the east side of Bainbridge Island; a longer, unsupported route is available. In either case, plan for pie at the finish. Presented by Squeaky Wheels – Bainbridge Bicycles Advocates.
Gigantic Bicycle Festival — Aug. 12-13, 2022 The annual event combines music, camping and bicycling at Centennial Park in Snoqualmie. Featuring a 100-mile, 50-mile, and 20-mile bike rides in 2022.
Mary Bridge Children's Courage (formerly Courage Classic) — Aug. 20-21, 2022 Organizers may create a virtual event to raise funds for this cause) A two-day, one mountain pass charity bike ride benefiting Mary Bridge Children's Hospital and Health Network. Ride from Cle Elum to Leavenworth over Blewett Pass on day one, then return to Cle Elum over Old Blewett Pass on day two. #
R2B2 Ride (Redmond to Bellingham and back) — Aug. 20-21, 2022 A double century weekend starting at Marymoor Park in Redmond. Overnight at Wayside Park,1145 Granary Ave, Bellingham. Presented by Cascade Bicycle Club. (Replaces RSVP on the Cascade calendar. The border crossing had proved to be logistically difficult.)
Sufferin' Summits — Aug. 27, 2022 Described as "A Special Kind of Stupid…", the bicycling event features three bike routes through the Issaquah Alps. Three routes: 16, 32, and 56 miles featuring 2070′, 4539′, and 8266′ of elevation gain. . Starts and ends at Tibbetts Park in Issaquah.
Ride from Seattle to Vancouver and Party (RSVP) — Retired. See R2B2.
Chuckanut Classic — Canceled in 2021; future uncertain The northern Washington bike ride event features four options from 25, 38, 62, and 100 miles. Sponsored by the Mount Baker Bike Club in Bellingham. #
Climate Ride – Pacific Northwest — Aug. 4-8, 2022 Bike ride visits the San Juan Islands, Victoria BC, and the Olympic Peninsula to support climate and environmental issues. 185 to 240 miles, with travel between locales by ferry boats.
Jump to September Bicycle Ride Calendar
Back to Washington Bicycle Tour Calendar main page
Selected bike ride route books for Washington state