2019
Tri Cities CF Cycle for Life (Richland) — Aug. 3, 2019 The Cycle for Life bike rides raise money for research and treatment for cystic fibrosis, an inherited chronic disease that affects the lungs and digestive systems of some 30,000 adults and children in the US. The fund-raisers typically feature a one-day bike ride with several mileage options. #
Blazing Saddles Bike Ride — Aug. 3, 2019 The ride starts at the Colville City Park and participants can choose from three options — 42, 68 or 100 miles. The ride shares the park with the Annual Rendevous Days, which will be open to cyclists. Presented by Rotary Club of Colville. #
Tour de Lavender — Aug. 3, 2019 A metric century and family fun ride that starts at 400 W. Fir St. in Sequim and tours the lavender farms in the vicinity. Part of Pedal Power Weekend that pairs with Ride the Hurricane. Benefits the Peninsula Trails Coalition (Olympic Discovery Trail). #
Ride the Hurricane — Aug. 4, 2019 This bike ride summits Hurricane Ridge Road in the Olympic National Park. The course up Hurricane Ridge Road is open to bicycles-only for this special event from 7 a.m. until noon; rest stops are available along the route. Part of the proceeds go to the Olympic National Park Fund to keep Hurricane Ridge open during the winter monthsB
Reform Ride for Refugees – Aug. 11, 2018 2019 TBA Silverdale. In its second year, this ride supports Lutheran Community Services Northwest's refugee resettlement work in the Puget Sound region.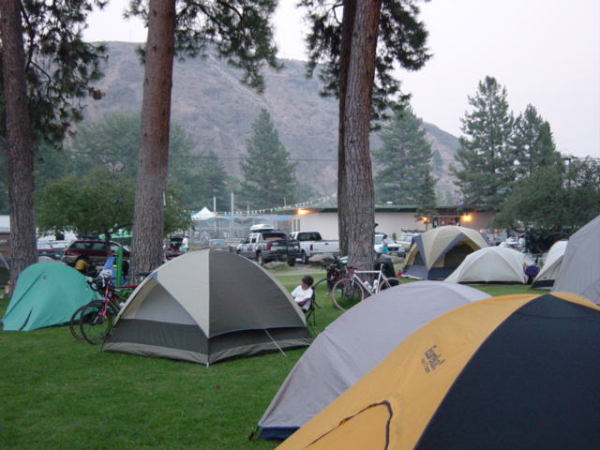 Obliteride — Aug. 10, 2019 The Fred Hutchinson Cancer Research Center benefits from this charity bike ride launched in 2013. Three mileage options are offered in the Seattle area: 25, 50, and 100 miles. Rides start at UW Parking Lot E1, end at Gas Works Park. Check out the pre-ride party on Aug. 9. #

High Pass Challenge — Aug. 12, 2019 Breathtaking 114-mile ride through the Gifford Pinchot Wilderness Area, including the Mt. St. Helens National Volcanic Monument; 7,500-foot elevation gain. Starts in Packwood. Sponsored by Cascade Bicycle Club. #

Bicycle Sundays: Seattle — Aug. 11 and 18, 2019 Lake Washington Boulevard closed to vehicular traffic from 10 a.m. to 6 p.m. between Mount Baker Beach and Seward Park.
Spokane Summer Parkways — Ongoing.  Howard Street from Riverfront Park to Corbin Park will be closed to all motor-vehicle traffic for Spokane's version of Ciclovia. (See also The Spokesman-Review, Feb. 14.) 
Tour de Lentil — No ride in 2019 (See Lentil Festival home page for date) The ride held in conjunction with the National Lentil Festival features metric and half-metric bike routes. Leaves from Pullman City Park and winds through the rolling Palouse terrain of eastern Washington. Benefits Washington State University Cycling Club..
Tour de Whidbey — Aug. 17, 2019The bike ride features mileage options of 30, 40, 50 or 100 miles, as well as a flat 10-mile route for beginners. Rides start at either Greenbank Farm or Coupeville Middle/High School. Well-stocked rest stops are located about every 15 miles. Proceeds will go toward purchase of a new MRI for the Whidbey General Hospital.#
Sufferin' Summits — Aug. 17, 2019 Described as "A Special Kind of Stupid…", the bicycling event features three bike routes through the Issaquah Alps. They are the Quarter, 15 miles with 2,100 feet elevation gain; Half, 33 miles with 4,700 feet gain; and Full, 55 miles with 8,500 feet gain. Starts and ends at Tibbetts Park in Issaquah.
Ride Around Clark County — See July calendar
RSVP — Aug. 23-24, 2019 Ride from Seattle to Vancouver and Party; 183 miles; Cascade Bicycle Club. (No registrations after July 7, 2019) #
Mary Bridge Children's Courage (formerly Courage Classic) — August 24-25, 2019 A two-day, one mountain pass charity bike ride benefiting Mary Bridge Children's Hospital and Health Network. Ride from Cle Elum to Leavenworth over Blewett Pass on day one, then return to Cle Elum over Old Blewett Pass on day two. #
Chuckanut Classic — Aug. 25, 2019 The northern Washington bike ride event features five options from 25 to 124 miles (double metric century), including a standard 100-miler. Sponsored by the Mount Baker Bike Club in Bellingham. #
Climate Ride – Pacific Northwest — None in 2019 This wide-ranging ride visits the San Juan Islands, Victoria BC, and the Olympic Peninsula to support climate and environmental issues. 185 to 240 miles, with travel between locales by ferry boats.
Jump to September Bicycle Ride Calendar
Back to Washington Bicycle Tour Calendar main page
Selected bike ride route books for Washington state