2023
Your Canyon for a Day Bike Tour — May 1, 2023 The 35-mile bike ride follows scenic Yakima River canyon on a highway closed to cars for the event, so no worries for families. Same-day registration at the Roza Recreation Site at milepost 7 on SR 821.
Seattle Bike and Brews (South) — May 7, 2023 Riders will visit several breweries in the area. Pedal along the Duwamish and Green River Trails from Georgetown to Tukwila. 38 miles. Presented by Cascade Bicycle Club.
Inland Empire Century May 13, 2023 Inland Empire Century (IEC) ride and Bike Expo. Cycle along the Columbia and Yakima rivers, through parks, and over bridges. Rest stops provided with food/beverage. Experienced sag support. Bike Expo after-ride festivities with free prizes. Choose an easy 25 miles or challenging 50, 75 or 100 mile routes. Ride Day at Camp Kiwanis in Columbia Park, 6007 Columbia Park Trail, Kennewick, WA.
Lewis County Historical Ride — May 13, 2023 Previously, four bicycling options — 12 to 107 miles — through rural Lewis County. Views of Mount St. Helens, Mount Adams and Mount Rainier and stops at historic schools and churches. Starts and ends at Jackson Prairie Church 4224 Jackson, Chehalis, WA 98532 Ample parking. Presented by Chehalis-Centralia Optimist Club.

Skagit Spring Classic Bike Ride — May 13, 2023 Based in Skagit County, look for new routes on four loops — 25 to 100 miles. Check back with website for details. Starts at Bayview Elementary School, Burlington. Go for the famous cookies and spaghetti feed.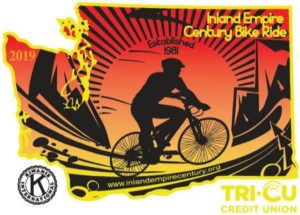 Inland Empire Century — May 13, 2023 Routes skirt the Columbia and Yakima rivers – through parks and over bridges – and return to the traditional route in the Horse Heaven Hills. Ride options are from an easy 25 miles to challenging 50, 75 or 100 mile tours. All routes showcase the scenic beauty of the lower Yakima/Columbia River valley with its vineyards, wheat fields and fruit orchards. (Ride listing also on Facebook)
Ride of Silence — May 17, 2023 A series of memorial bike rides across the US that commemorate bicycle riders who have died in traffic. All the rides start at 7 p.m. local time. Check the Ride of Silence schedule for rides in your area.
Bicycle Weekends – Seattle — May 20-21; May 27-28, 2023 Lake Washington Boulevard is closed to all but local vehicular traffic from 10 a.m. Saturday to 6 p.m. Sunday from Mt. Baker Beach and Seward Park.
Bike Everywhere Day – Seattle — May 19, 2023 Bike to work, to the store, to the library or just for recreation and fresh air. Check Cascade Bicycle Club website for celebration stations for bike tune ups and swag.
Lilac Century & Family Fun ride – May 21, 2023 Bike ride options of 25 miles to 100 miles, in addition to a 35-mile gravel ride. Meets at Creekside Elementary School in Mead. Presented by Spokane Aurora Northwest Rotary Club, and funds go to community projects.
Viking Tour – May 21, 2023 Three options of 16, 30, and 59 miles on the Kitsap Peninsula, starting in Poulsbo. Includes a Brew Fest in 2022. Benefits Rotary Club.
Gran Fondo Leavenworth — May 21, 2023 On the western slope of the Cascades, the 87-mile ride has 45 miles on gravel roads. Starts at Peshastin/Dryden Elementary School in Peshastin.
Columbia Gorge Explorer 2021 — May 26-29, 2023 The Jim O'Horo Memorial Columbia Gorge Explorer is a Memorial Day weekend ride averaging about 60 miles a day through Washington and Oregon. Starts and ends in Vancouver. No sag support. Presented by Portland Wheelmen.
Northwest Tandem Rally — May 26-29, 2023 The 2023 Northwest Tandem Rally will take place in Sequim, Washington, and is brought to you by the Peninsula Trails Coalition, with support from Peninsula Adventure Sports, Sequim-Dungeness Valley Chamber of Commerce and the City of Sequim. The Peninsula Trails Coalition is the primary benefactor of NWTR 2023, with any rally proceeds used to support the maintenance and construction of the Olympic Discovery Trail.
7 Hills of Kirkland — Returns in 2023; dates TBA Presented for the first time by the Kirkland Kiwanis Foundation
Gran Fondo of Yakima Valley — 2023 to be announced The bike ride covers 82 miles — including 21 miles of gravel — with 5,600 feet of elevation gain. Views of Mt. Rainier and Mt. Adams, as well as Yakima River canyon. Presented by Yakima Basin Velo. Starts in Naches.
Jump to June Bicycle Ride Calendar
Back to Washington Bicycle Ride Calendar main page
Selected bike ride route books for Washington state