2021
Bicycle Sundays: Seattle — Lake Washington Boulevard closed to vehicular traffic from 10 a.m. to 6 p.m. between Mount Baker Beach and Seward Park.
MS 150 Bike Tour: Deception Pass Classic — Sept. 11, 2021 Deception Pass Classic is a one-day journey through Skagit, Whatcom and Island counties. Includes crossing the bridge at Deception Pass. Fund-raiser for Multiple Sclerosis Foundation.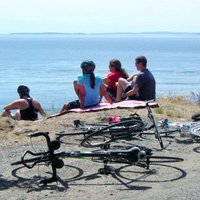 Passport to Pain— Sept. 11, 2021 A bike ride that visits most of Vashon Island's challenging hills. Options of 30, 50, and 80 miles, but they're measured in elevation gain — Weenie – 3,400 feet, Weasel – 6,500 feet, and Idiot – 10,000 feet. Riders get their passport stamped at stations along the way. A barbecue for all at the end of the ride. Presented by Vashon Island Rowing Club
Headwaters Century — TBA Three options of 52, 59, or 70 miles in southern King County. Starts at Enumclaw High School 226 Semanski St S, Enumclaw. Presented by Tacoma Washington Bicycle Club.
SpokeFest — September 4-12, 2021 A virtual event in 2021. The ride normally features a family bike ride around Riverfront Park or 21-mile bike ride through Riverside State Park. Food, music and entertainment. Based in Spokane.
WaCanId Ride — Sept. 12-17- 2022 (No ride in 2021) A 340-mile, fully supported bike tour on the International Selkirk Loop encompasses parts of Washington, Idaho and British Columbia. Riders can begin in three locations — Sandpoint, ID, Creston or Nelson, BC. Presented by Rotary Clubs of the Selkirk Loop.
Lake to Lake Bike Ride — Sept. 18, 2021 Explores Bellevue on side roads and bike trails. Benefits Bellevue Youth Camp scholarships. Starts at Lake Hills Community Park. Two options — 9 and 22 miles. #
Chelan Cycle de Vine — Sept. 18, 2021  Starting at Chelan River Park, the ride comprises three loops in a cloverleaf design, each with options for extra climbs. Ride from 24 miles (shortest loop) to 109 miles with the optional climbs.
Gran Fondo Winthrop — Sept. 18, 2021 A hard ride intended for experienced cyclists. There will be over 10,000′ of climbing and descending , much of which is on rough Forest Service roads. Weather is a big gamble at 7000′ in September. 90 or 38 miles. Presented by Vicious Cycle Cycling and Event Promotions.
Woodinville Wine Ride —  Sept. 19, 2021 The bike ride takes the Sammamish River Trail and Burke-Gilman Trail to visit area wine producers. A wine and food sampling is provided at the turn-around at Magnuson Park. Presented by Cascade Bicycle Club. #
Washington Bike Summit — September 20-21, 2020 The Summit features keynote speakers, breakout sessions, guided workshops, lunches and opportunities for networking with other cyclists. Spokane Convention Center.
Apple Century Bike Ride — Sept. 25, 2021 — Choose among options of 25, 50 or 100 miles through the Wenatchee Valley. The century ride goes up to Wenatchee Lake and back, while the 50-miler cuts that distance in half by turning around in Leavenworth. Presented by the Wenatchee Sunrise Rotary Club for raise funds for its programs.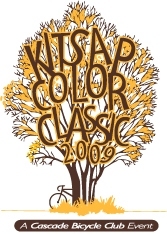 Kitsap Color Classic — Sept. 26, 2021 Take the ferry over to the Kitsap Peninsula from Edmonds and choose among 3 bike route options of 25, 35, or 53 miles (flat or hilly); Cascade Bicycle Club.
Reach the Beach — Sept. 12-Oct. 11, 2021 A virtual charity bike ride in Washington state to benefit for American Lung Association. Activities include interactive opportunities to connect with the cycling community through trivia nights, scavenger hunts, how-to tutorials, beer and wine tasting events, cooking demonstrations from rest stops and free access to our free Strava Club to track your ride and win prizes.
Cycle the WAVE — TBA Women Against Violence Everywhere is sponsoring this all-women's cycling experience benefiting domestic violence programs in Washington State. Four rides to accommodate all levels: Brave Sister -12 miles, Strong Sister — 29 miles, Fierce Sister – 46 miles and the Mighty Sister – 70 miles. Starts and ends at Bellevue College.
Selected bike ride route books for Washington state