Updating to 2023
Bicycle Weekends – Seattle  Sept. 2-3; Sept. 16-17, 2023 Lake Washington Boulevard is closed to all but local vehicular traffic from 7 p.m. Friday to 7 a.m. Monday from Mt. Baker Beach and Seward Park.
Apple Century Bike Ride Retired in 2023 The  50- or 100-mile bike ride starts at Walla Walla Point Park in Wenatchee and continues up to the turnaround at Nason Creek Campground on Lake Wenatchee; sponsored by Wenatchee Sunrise Rotary
Tri Cities CF Cycle for Life (Woodinville) — Sept. 11, 2022 The Cycle for Life bike rides raise money for research and treatment for cystic fibrosis, an inherited chronic disease that affects the lungs and digestive systems of some 30,000 adults and children in the US. The fund-raisers typically feature a one-day bike ride with several mileage options. #
Mt. Baker Hill Climb — Sept. 11, 2022 Ascend 4,462 feet from Chair 9 in Glacier to Artist Point (5,140 feet elevation) in 22 miles. The Mt. Baker Highway (SR542) is known as one of the most scenic paved roads in the country and rarely is the highway closed to motorized vehicles from Glacier to Artist Point.
MS 150 Bike Tour: Deception Pass Classic — Sept. 10-11, 2022 Deception Pass Classic is a journey through Skagit, Whatcom and Island counties. Starts at Mount Vernon. Includes crossing the bridge at Deception Pass. Fund-raiser for Multiple Sclerosis Foundation.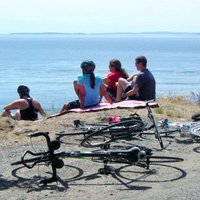 Passport to Pain— Sept. 10, 2022 A bike ride that visits most of Vashon Island's challenging hills. Options of 30, 50, and 80 miles, but they're measured in elevation gain — Weenie – 3,400 feet, Weasel – 6,500 feet, and Idiot – 10,000 feet. Riders get their passport stamped at stations along the way. A barbecue for all at the end of the ride. Presented by Vashon Island Rowing Club
Headwaters Century — TBA Three options of 52, 59, or 70 miles in southern King County. Starts at Enumclaw High School 226 Semanski St S, Enumclaw. Presented by Tacoma Washington Bicycle Club.
SpokeFest — September 4-12, 2021 A virtual event in 2021. The ride normally features a family bike ride around Riverfront Park or 21-mile bike ride through Riverside State Park. Food, music and entertainment. Based in Spokane.
WaCanId Ride — Sept. 12-17- 2022 (No ride in 2021) A 340-mile, fully supported bike tour on the International Selkirk Loop encompasses parts of Washington, Idaho and British Columbia. Riders can begin in three locations — Sandpoint, ID, Creston or Nelson, BC. Presented by Rotary Clubs of the Selkirk Loop.
Chelan Cycle de Vine — Sept. 18, 2021 Starting at Chelan River Park, the ride comprises three loops in a cloverleaf design, each with options for extra climbs. Ride from 24 miles (shortest loop) to 109 miles with the optional climbs.
Gran Fondo Winthrop — Sept. 18, 2021 A hard ride intended for experienced cyclists. There will be over 10,000′ of climbing and descending , much of which is on rough Forest Service roads. Weather is a big gamble at 7000′ in September. 90 or 38 miles. Presented by Vicious Cycle Cycling and Event Promotions.
Woodinville Wine Ride — Sept. 19, 2021 The bike ride takes the Sammamish River Trail and Burke-Gilman Trail to visit area wine producers. A wine and food sampling is provided at the turn-around at Magnuson Park. Presented by Cascade Bicycle Club. #
Washington Bike Summit — September 20-21, 2020 The Summit features keynote speakers, breakout sessions, guided workshops, lunches and opportunities for networking with other cyclists. Spokane Convention Center.
Apple Century Bike Ride — Sept. 25, 2021 — Choose among options of 25, 50 or 100 miles through the Wenatchee Valley. The century ride goes up to Wenatchee Lake and back, while the 50-miler cuts that distance in half by turning around in Leavenworth. Presented by the Wenatchee Sunrise Rotary Club for raise funds for its programs.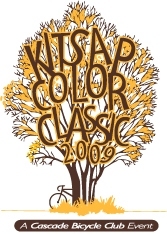 Kitsap Color Classic — Sept. 26, 2021 Take the ferry over to the Kitsap Peninsula from Edmonds and choose among 3 bike route options of 25, 35, or 53 miles (flat or hilly); Cascade Bicycle Club.
Reach the Beach — Sept. 12-Oct. 11, 2021 A virtual charity bike ride in Washington state to benefit for American Lung Association. Activities include interactive opportunities to connect with the cycling community through trivia nights, scavenger hunts, how-to tutorials, beer and wine tasting events, cooking demonstrations from rest stops and free access to our free Strava Club to track your ride and win prizes.
Cycle the WAVE — TBA Women Against Violence Everywhere is sponsoring this all-women's cycling experience benefiting domestic violence programs in Washington State. Four rides to accommodate all levels: Brave Sister -12 miles, Strong Sister — 29 miles, Fierce Sister – 46 miles and the Mighty Sister – 70 miles. Starts and ends at Bellevue College.
Selected bike ride route books for Washington state