2020
Bicycle Sundays: Seattle — Sept. 1, 8 and 15, 2019 Lake Washington Boulevard closed to vehicular traffic from 10 a.m. to 6 p.m. between Mount Baker Beach and Seward Park.
MS 150 Bike Tour: Deception Pass Classic — Sept. 12-13, 2020  Deception Pass Classic is a two-day journey through Skagit, Whatcom and Island counties. Fund-raiser for Multiple Sclerosis Foundation.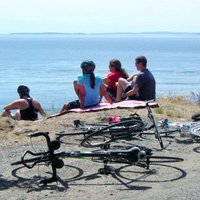 Woodinville Wine Ride — Sept. 13, 2020 The bike ride takes the Sammamish River Trail and Burke-Gilman Trail to visit area wine producers. A wine and food sampling is provided at the turn-around at Magnuson Park. Presented by Cascade Bicycle Club. #
Passport to Pain— Sept. 14, 2019 A bike ride that visits most of Vashon Island's challenging hills. Options of 30, 50, and 80 miles, but they're measured in elevation gain — Weenie – 3,400 feet, Weasel – 6,500 feet, and Idiot – 10,000 feet. Riders get their passport stamped at stations along the way. A barbecue for all at the end of the ride. Presented by Vashon Island Rowing Club
Headwaters Century — Sept. 12, 2020 Three options of 52, 59, or 70 miles in southern King County. Starts at Enumclaw High School 226 Semanski St S, Enumclaw. Presented by Tacoma Washington Bicycle Club.
SpokeFest — September 13, 2020  Family bike ride that features a 1-mile ride around Riverfront Park or 21-mile bike ride through Riverside State Park. Food, music and entertainment. Based in Spokane.
WaCanId Ride — Sept. 14-19, 2020  A 340-mile, fully supported bike tour on the International Selkirk Loop encompasses parts of Washington, Idaho and British Columbia. Riders can begin in three locations — Sandpoint, ID, Creston or Nelson, BC. Presented by Rotary Clubs of the Selkirk Loop.
Bike for Pie — 2020 TBA This Bainbridge Island bike ride features options of 10 and 32 miles; the longer route includes a second pie stop. Presented by SqueakyWheels.
Cycle the WAVE — TBA  Women Against Violence Everywhere is sponsoring this all-women's cycling experience benefiting domestic violence programs in Washington State. Four rides to accommodate all levels: Brave Sister -12 miles, Strong Sister — 29 miles, Fierce Sister – 46 miles and the Mighty Sister – 70 miles. Starts and ends at Bellevue College.
Chelan Century Challenge — Sept. 19, 2020 Three loops of 30 – 40 miles each that combine challenging climbs (8,600 feet total elevataion gain) along with spectacular scenery around Lake Chelan. Starts in Chelan. Presented by Chelan Rotary Community Foundation. #
Chelan Cycle de Vine — See September Starting at Vin du Lac in Chelan, the Cycle de Vine is 21.3 miles .
Washington Bike Summit — September 20-21, 2020 The Summit features keynote speakers, breakout sessions, guided workshops, lunches and opportunities for networking with other cyclists. Spokane Convention Center.
Gran Fondo Winthrop — Sept. 19, 2020 A hard ride intended for experienced cyclists. There will be over 10,000′ of climbing and descending , much of which is on rough Forest Service roads.  Weather is a big gamble at 7000′ in Sept. 90 or 45 miles. Presented by Vicious Cycle Cycling and Event Promotions.
Kitsap Color Classic — Cancelled in 2020 due to coronavirus Take the ferry over to the Kitsap Peninsula from Edmonds and choose among 7 bike route options of 14 to 64 miles (flat or hilly); Cascade Bicycle Club.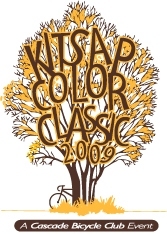 Inland Empire Century — May 9, 2020 Rescheduled to Sept. 26, 2020 Inland Empire Century (IEC) ride and Bike Expo. Cycle along the Columbia and Yakima rivers, through parks, and over bridges. Rest stops provided with food/beverage. Experienced sag support. Bike Expo after-ride festivities with free prizes and live music. Free pre-ride meal Friday evening and post ride meal Saturday. Choose an easy 25 miles or challenging 50, 75 or 100 mile routes. Twelve and under free with a registered adult; 13-17 years $15; Adults $30 for 25 mile or $55 for 50, 75, or 100 mile ride. $5 late registration fee after August 22. Pre-register online now. Onsite registration 4:00 – 8:00 pm Sept 25 and 6:30 – 8:30 am on Ride Day at Camp Kiwanis in Columbia Park, 6007 Columbia Park Trail, Kennewick, WA.
Reach the Beach — Sept. 26, 2020 Charity bike ride in Washington state for American Lung Association. The ride ends in Westport with starts in Cosmopolis (25 miles), Elma (44 miles), Olympia (80 miles) or Lacey (100 miles).
Selected bike ride route books for Washington state