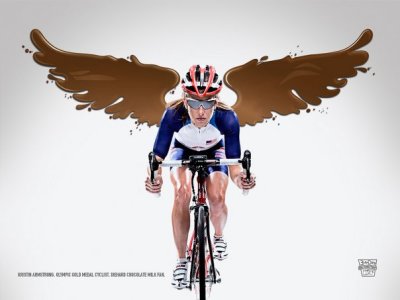 Olympic and two-time world gold medalist Kristin Armstrong is preparing for life after pro cycling.
The 36-year-old from Boise, Idaho, carried out her planned retirement after winning a gold medal in the time trial event at the World Championships in Switzerland in September. That honor went right up on the shelf beside her World gold in 2006 and the Olympic gold in the time trial in 2008.
Now she's working with a speaking coach to possibly launch a career as a motivational speaker and TV cycling commentator. Quoted by the AP:
"If a woman can commentate in the NFL, why can't a woman commentate for the Tour de France? I have the medals. Now I have to make that happen."
Remember Kirsten Gum? Before she became a star on the Travel Channel, Gum did color for the Tour de France shows presented by the Outdoor Life Network (now Versus).
Milk and spuds
Currently Armstrong is a pitchwoman for the United Dairymen of Idaho and Idaho Potato Commission.
For the dairymen, she says that chocolate milk helped fuel her success on the bicycle. That's her in the photo above, flying along on wings of chocolate milk. Apparently she's appearing on billboards across the state.
There's also a video on the Kristin Armstrong Facebook account that shows her whipping down the road in a blur after drinking chocolate milk.
She also has filmed public service announcements about cycling safety on Idaho roads and the Blue Cruise charity bike ride.