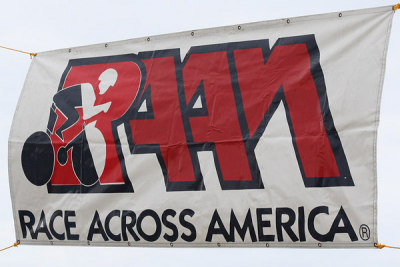 Slovenian ultra-cyclist Jure Robic is well past the half-way point of the 2010 Race Across America with the entire solo field strung out for hundreds of miles behind him.
The 45-year-old four-time champion most recently rode through the Fort Scott, Kansas, checkpoint at 2:10 p.m. (ET) on Monday.
His closest rival is Gerhard Gulewicz of Austria, who's trailing by about 60 miles. The other 15 men in the under-50 age stretch as far back as Trinidad, Colorado, more than 500 miles behind. [June 15 update: Gulewicz had cut that gap to 40-some miles by Tuesday afternoon. See RAAM website for update and video.]
Women
Robic and most of the other men left Oceanside, California, at noon on Wednesday bound for Annapolis, Maryland; a distance of 3,004 miles. Three of the men have been forced to drop out.
Among the 5 women, Barbara Buatois of France leads the women on her recumbent, while Michele Santilhano of South Africa leads those riding traditional bicycles. The women and 60-over men left on Tuesday.
Last year, Robic appeared locked in a close duel at this point with the eventual winner of the race, Daniel Wyss of Switzerland. The contest doesn't appear that close, although lots can happen between Kansas and Annapolis.
At the rate he's going, Robic is expected to arrive in Annapolis between 6 and 7 a.m. Friday morning. His overall average speed of 14.55 mph is off the record-setting pace of 15.4 mph set by Pete Penseyres in 1986.
Hallucinations
Meanwhile, RAAM commentators are interviewing some of the other sleep-deprived riders out on the road. They're talking mostly about the weather and lack of sleep. One of those, Bob Morlock of Danbury, Connecticut, talked about hallucinations that visit him at night:
"It always the same… along the white line. It looks like elf shoes… The vegetation comes alive. It's crazy."
Currently in 7th place, Morlock estimated he was getting about 1 and 1/2 hours sleep a night. Other interviews are available online at the RAAMmedia channel at YouTube.com. You can become a RAAM fan at the RAAM Facebook page.
See also: RAAM ultra-endurance bike races start this week: how to follow