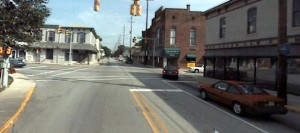 A city commission in Greenwood, Indiana (map), is turning away a proposed U.S. Bicycle Route that would take traveling bicyclists through the middle of its historic downtown.
Members of the Greenwood Board of Public Works and Safety rejected the bike route because of concerns about safety and potentially getting sued if someone gets injured, reports a story in the Indianapolis Business Journal.
It seemed surprising to me that a town would turn away tourism dollars, especially from those with such a low impact as touring bicyclists on the U.S. Bicycle Route System, a proposed 50,000-mile network of bicycle byways that will span the nation.
Rejection exception
I asked Ginny Sullivan, the Adventure Cycling Association's coordinator for the bike route network, whether this is common.
"Yes, it happens occasionally. … However, it tends to be the exception. Most rural communities see bike tourism as an economic opportunity."
The U.S. Bicycle Route System is "owned" by the American Association of State Highway and Transportation Officials, which designates the individual route numbers after they're requested by the individual states.
The first two USBRS routes were USBRS 1 in Virginia and North Carolina and USBRS 76 through Virginia and Kentucky and into Illinois. Later, in May 2011, USBRS 1 was designated in Maine and New Hampshire and USBRS 20 was approved across Michigan. Most paved roads in Alaska also are USBRS routes.
USBRS 35
In Indiana, volunteers with Hoosiers Rails to Trails Council have been going to communities to get approvals for the proposed USBRS 35, which would run from Michigan's border with Canada in the north to the Gulf Coast in the south. About two dozen communities have supported the route.
The Greenwood Board of Public Works and Safety, however, found a problem with having cyclists ride into town on Madison Avenue, which passes through Old Town Greenwood. They suggested removing the bike route onto roads not under the town's jurisdiction.
Sullivan told me that they've been able to resolve some towns' rejections of a US Bicycle Route by rerouting onto state routes.
"I think over time, we'll be able to show communities that they really don't have anything to fear. Again, most communities see the designation as a good thing for their community," she said.
Liability
The newspaper story quotes city officials saying that while bicyclists currently can ride through town on Madison Avenue, there are plans for bicycle paths along the street but they don't exist yet.
"The city is concerned about accidents, but not that bicyclists could hold up traffic on Madison Avenue."
Adventure Cycling has an online collection of studies about the liability of towns regarding bicyclists. Essentially, lawsuits against cities or road agencies usually arise when they've been notified of a hazardous condition but fail to either correct it or provide a warning.
It seems if a town is prudent about keeping its streets in safe condition, then the liability would be more than offset by the positive economic and community benefits of bicycle travel.
Let's hope this liability concern doesn't become an overriding issue.
Thanks to Adventure Cycling volunteer Kerry Irons of Michigan for correcting some facts about the USBRS.