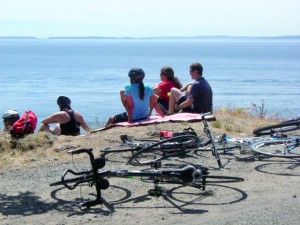 The recent string of sunny spring days should be setting cyclists' legs a-twitching in the Pacific Northwest as they think ahead to summer adventures on their bicycles.
Picking a destination should be easier than ever this summer as at least three new books will share prime bicycling routes in Oregon and Washington. Actually, with so many choices, picking a biking option might be more difficult
Let's start with an article in the current Outdoors NW pub that picks "10 Classic rides in the Northwest." Author Amy Poffenbarger chooses five mountain bike rides and five road routes that top the list of many cyclists in the Northwest.
Here they are (you can go online to check the details):
Road riding
San Juan Islands, Wash. (photo above)
Chuckanut Mountain, Wash.
Ride Around Puget Sound (RAPSody), Wash.
Chinook Pass, Wash.
Carson Hot Springs, Columbia River Gorge, Wash. and Ore.
 Mountain biking
Crystal Mountain, Wash.
Methow Valley, Wash.
Columbia River Gorge, Ore.
Whistler, BC
McCall, Idaho
Further, there are three books coming out later this spring that list descriptions and maps of mountain and road biking routes in Washington and Oregon.

For starters, there's Bellingham cyclist Mike McQuaide's upcoming "75 Classic Rides Washington," due to be published in May.
The book includes everything from family-friendly bike routes like the Burke-Gilman Trail in Seattle to soaring climbs like the road route from Winthrop to the summit of Washington Pass.
In June, a companion book by Jim Moore entitled "75 Classic Rides Oregon" is due for release.
Both are publications of MountaineerBooks.org, which has been generating outdoor adventure ideas for bicyclists for many years. Other books you may have encountered include "Bicycling the Pacific Coast" and "Biking the Puget Sound."
If you're looking for more choices, a book by Oregon travel writer Allee Thalheimer is due out in May.

"Cycling Sojourner: A Guide to the Best Multi-Day Bicycle Tours in Oregon" is for folks looking to stuff their panniers and stretch their legs for a few days.
Allee writes at the book's website:
"The first guide book of its kind, it contains superior route information and every travel detail a budding or experienced cycle tourist needs. It's for all levels and species of cyclists or adventurers. Beyond facts and information, the book is meant to be a good read and a muse to all who might have even the dustiest thought that a bike journey might lead them down a strange and wonderful road"
The tours range in length from 3 days to a week and include the Oregon Coast, wine country and the mountains.
With all these choices, there's no excuse for thinking there's no place to ride this summer.