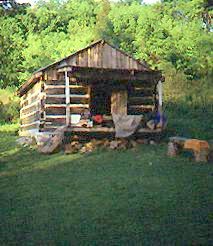 Bikers' cabin, Virginia
circa 1984
Here are the latest and final election results. Trust me. There will be no charges of mudslinging or requests for recounts.
I'm talking about the results from the Bicycle Travel Award contest hosted by Adventure Cycling Association, the nonprofit that has developed 38,000 miles of bike routes criss-crossing the US.
The folks named below were nominated by some of you. The individuals were chosen for making the on-the-road lives of bike travelers easier and their work in furthering the enjoyment of bicycle touring.
The June Curry Trail Angel Award goes to Bill and Nancy Nix of Knox, North Dakota …