Proceeds from the first-ever All-in Family Bike Ride presented by the Marysville YMCA on April 5 will benefit the Red Cross efforts to help the landslide ravaged community of  Oso in Snohomish County.
Rescuers are still searching the mile-square area between Arlington and Darrington along the Stillaquamish River for survivors or bodies. Authorities say 25 people have been found dead since last Saturday's mudslide; 90 are reported missing.
The Red Cross has been helping families in the area with lodging, food, child care and emotional support.
The Red Cross says it has opened two shelters, one in Arlington and another in Darrington, where people can stay overnight and stay up-to-date with news from the disaster site.
Mental health workers are available at both locations, and volunteers had prepared 5,200 meals as of Thursday.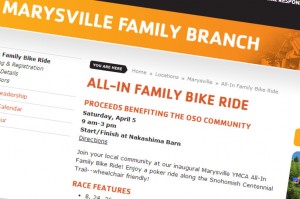 Bike ride
The All-In Family Bike Ride was conceived as fund-raiser for the Marysville YMCA Family Branch, but the disaster in nearby Oso prompted organizers to support the relief efforts.
The April 5 bike ride starts at the Nakashima Barn Trailhead (locator map) at the northern end of the Centennial Trail in Snohomish County. Cyclists can choose options of 8, 24, 36, 48 or 60 miles. As it's a family ride, a 2-mile training wheel ride also is offered.
Participants can draw cards for a poker hand at five stops along the route, and prizes are awarded for the best hands. Tech-shirts also will be handed out.
Registration is $35 for riders over 11 years old; those who are younger pay $1 for each year of their age.
All proceeds will go to the Red Cross efforts to aid families affected by the landslide.
STP auction
Meanwhile, the Cascade Bicycle Club will donate all proceeds from auctions of Seattle-to-Portland Bicycle Classic bib numbers to the victims of the landslide for the next two weeks.
Two auctions end on Sunday and two more end on April 6. If you were unable to get a "ticket" to participate in the STP bike ride, this is one of your last chances to join up. Details of the auctions can be found here.
Donations
You make make a donation directly to the Red Cross Disaster Relief. You can use this Red Cross donation link.
Red Cross says that donations to Disaster Relief enabled them to respond immediately to this landslide and the full range of needs it created, including mental health assistance for families, food and shelter and support for first responders. Disaster Relief donations are being used to provide help right now to people in need.