Bicyclists can begin crunching the gravel again on some state park trails in Washington beginning next Tuesday after the state announced on Saturday its list of parks that will reopen.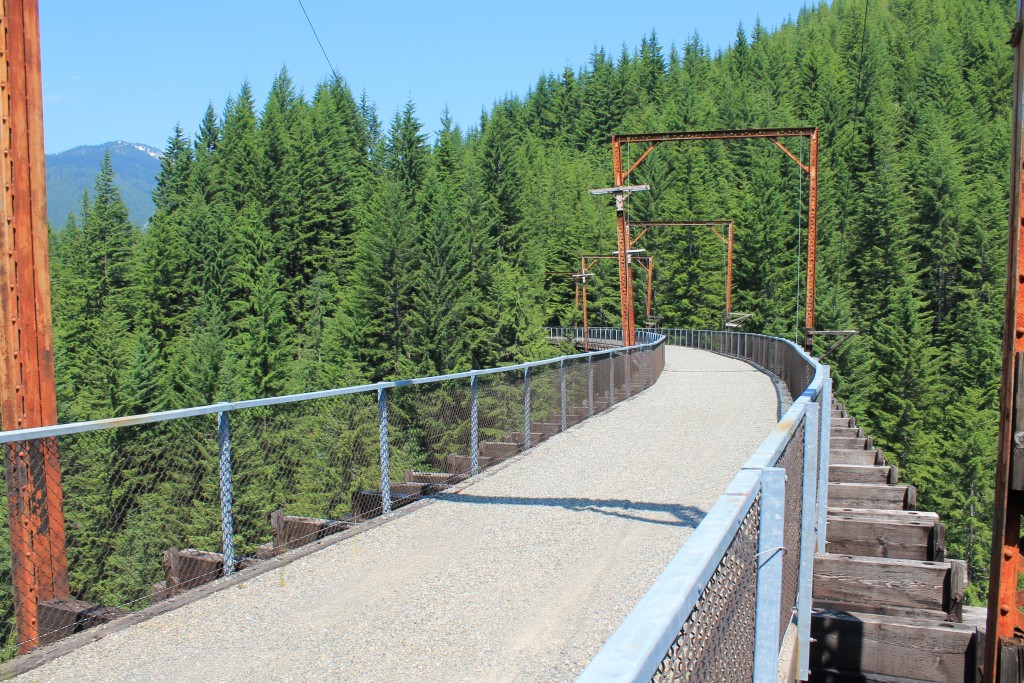 Washington Gov. Jay Inslee announced some — but not all — parks and trails would reopen as the state begins to relax its stay-at-home orders prompted by the Covid-19 pandemic.
Here's the link to reopened state parks, and a list of guidelines that users must follow. The state parks are open for day use only; outdoor camping is still prohibited.
Among the reopened parks that are frequented by bicyclists and mountain bikers: Centennial Trail (Spokane), Columbia Plateau Trail, Fort Ebey, and Willapa Hills Trail. The Palouse to Cascades State Park Trail will reopen, but the Cedar Falls trailhead near North Bend will remain closed. Dash Point near Federal Way and Saint Edwards State Park in Kirkland will reopen, but with reduced capacity in the parking lots. Check the list for your favorite park.
The Klickitat Trail in southern Washington near the Columbia Gorge remains closed.
Inslee announced the park and trail closures last month, although he did encourage people to ride bikes and get outside for fresh air. The rate of disease and death related to the coronavirus in Washington state has continued a slow, but steady, drop in recent weeks, leading to the rollbacks.
Further, state recreational lands managed by the Department of Natural Resources will reopen on Tuesday, May 5. That includes the mountain biking trails in Tiger Mountain State Forest, although some are closed for logging or other reasons.
In all cases, state officials recommend users check if their destinations are open before they go and to choose locations close to home. Also, visitors should stay with people in their households and avoid contact with others to prevent the spread of infection.
King County
Meanwhile, Seattle's home of King County is considering reopening some of its 175 miles of trail soon, in response to the governor's order. Currently all trailheads and trails managed by King County are closed to all users except those using to trails to get to essential jobs. Updates here. On Tuesday, the county announced:
"King County Parks is working through a phased-in reopening scenario for its parks, trails and other facilities, likely starting with natural lands and regional trails."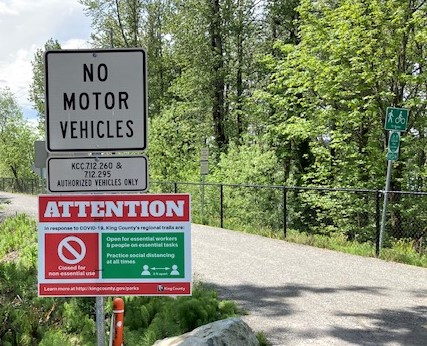 Jon Hoekstra, executive director of the Mountains to Sound Greenway Trust, said the reopenings were good news, but offered a checklist to "recreate responsibly" and ensure the parks remain open. Here are those suggestions:
Before you go
Check what's open. Many state-managed lands are open for day-use only, but some local and federal lands may still be closed. Overnight camping is not allowed, nor events, gatherings, or team sports.
Stay close to home and avoid extra stops. This is not the time to travel long distances to recreate. Overnight stays are not permitted, and staying closer to home will help to limit potential negative impacts on small, rural communities. Pack your lunch and get gas before you go, don't make unnecessary stops to or from your destination.
Recreate with immediate household members only. Recreation with those outside of your household creates new avenues for virus transmission.
Be prepared. Restrooms may be closed or limited during the reopening process, so bring your own soap, water, hand sanitizer, and toilet paper, as well as a mask or bandana to cover your nose and mouth.
Feeling sick? Save your outdoor adventure for another day.
Have back-up plans: Have a "plan b" and a "plan c" in mind for your outing in case your "plan a" has a nearly full parking lot or your destination is closed.
When you get there
Practice physical distancing. Keep six feet between you and anyone who doesn't live with you. Leave at least one parking space between vehicles and boat trailers, and only launch one boat at a time.
Wear a mask and practice good hygiene. Keep your hands clean and avoid touching any high-traffic surfaces (such as in restroom facilities). When you must be in close contact with others, wear a mask that covers your nose and mouth.
Leave no trace. Always pack out what you pack in, including gloves and masks. With facilities just reopening, there may not be staff collecting trash. Be respectful of our public lands and facilities.
Don't take unnecessary risks. Health care workers and first responders are working really hard right now to keep us safe during this health crisis, and resources are already strained. Any risks that might mean you need rescue or health care could further strain those resources. Please choose your outing with this in mind.
Meanwhile, the Seattle-based Cascade Bicycle Club, which has cancelled most group rides this year including the Seattle to Portland Classic, also has issued guidelines. Among them:
Ride alone or with members of your household; maintain social distancing on and off the bike, carry sanitizer, prepare for restrooms to be closed, and don't spit or blow "snot rockets."