A long-running Pacific Northwest bicycle touring group — Bicycle Rides Northwest — is seeking financial help after undergoing a bumpy ride the past few years.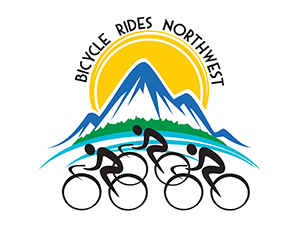 Founded in 1987 as Oregon Bicycle Ride, the Portland-based tour agency has changed its name and expanded its reach over the years beyond Oregon into Washington, Idaho, Montana, and California.
The Covid-19 pandemic has hit BRNW particularly hard, as it has other bicycle tour groups in the Northwest and across the country. The lockdown came as the group was reeling from wildland fires that forced cancellation of rides a couple of years earlier. Four members of the board of directors this week put out a plea for donations to ensure the group can survive into the future.
Here's the letter they sent seeking help for funding. We wish them luck in getting through these rough times. I expect bicyclists will be looking forward to touring more than ever when these hard times are over.
To our BRNW riders:
As the board of directors for BRNW, we care deeply about the organization and our riders, crew, staff, vendors and host communities – as we know you do. We've been taking riders on adventures for more than 30 years, and we treasure the strong bonds we've built with you.
We're reaching out to you because BRNW is facing financial difficulty.
As you may know, we've experienced a string of difficult events that collectively have depleted our funds. In 2018 a forest fire forced us to relocate a tour at the last minute, which added to our expenses. In 2019 our Oregon tour ran with only 185 riders; rather than cancel on the riders, we operated it at a loss. In 2020 we had to cancel both our tours, and in order to refund riders as much of their money as we could, we spent down our reserve fund.
We've attempted to apply for government relief funds, but our type of nonprofit is not eligible for PPP. And we had hoped to replenish our accounts this past December with rider fees for our planned 2021 tours. As you know, that didn't happen. Consequently, we're in a cash crunch until we can offer our regular tours again.
We won't be able to pay our staff and our basic operating bills such as storage and insurance through 2021 without help. Thankfully, our dedicated staff continues to work, because they love BRNW as much as we do. We still hold out hope of hosting one tour later this summer, which would help – but it won't eliminate our shortfall.
In the past few months we've had several riders anticipate this situation and reach out seeking to help financially. We've been hesitant to ask for help, but these riders have told us how strongly they feel that BRNW plays an important role in people's lives – riders, vendors, community members and others – and that we all also assist in bridging the urban/rural divide. They believe this impact is worth sustaining, and so do we.
With this in mind, we're asking if you might be able to help.
We thoroughly understand that this past year has presented hardships for many people, and that not everyone may be in a position to be able to help us. If that's your situation, we only ask for your continued support as a rider on our events.
If you are able to contribute financially, there are several ways you can do that.
If you prefer, you can send a check made out to BRNW; our mailing address is 5725 NE Cleveland Ave., Portland OR 97211. You can also use PayPal; our account is under "Bicycle Rides Northwest." [Note: Because we're a 501(c)(7), unfortunately a donation to BRNW is not tax-deductible.]
We've also created an exclusive BRNW jersey specifically for this fundraising effort, which you can purchase to help out. Primal Wear, our clothing vendor, is generously creating these jerseys for us at a discounted price, and setting up a special online store to sell them. We're offering the jerseys at $100, as a way to raise funds while also giving you a BRNW memento. You can see what the jersey looks like below; it's a subtle design with rich colors and some fun personalized BRNW references. Go here to order a jersey; this offer is open to anyone, but only from now until March 2. The jerseys should be delivered directly to you in April (which adds $10 to the cost).
Please help if you can, and if you have any questions we'd be glad to talk with you; you can reply to this email to connect with the board or Executive Director Jim Moore. We're extremely grateful to have strong support from our riders and everyone involved with BRNW, and we're eager to get back to doing what we all love.

Sincerely,
The BRNW Board of Directors:
Kim Conklin
Mike Westby
Frank Fleetham
John Taylor
In the meantime, BRNW is offering weeklong bicycle tours in Oregon and Montana this summer, as well as guided and self-guided tours for groups numbered 10 or fewer.
See the website or Facebook page for more details.