That bicycle bridge spanning the busy Factoria Boulevard in Bellevue opened this week.
The project helps hundreds of bicycle commuters and recreational bicyclists daily who will no longer have to negotiate the busy Factoria Boulevard – I-90 interchange in the shopping district.
Officials started working on the issue of how to get bicyclists safely across Factoria Boulevard in 2011 when they hosted a fact-finding bicycle tour of the area.
The tunnel/bridge project is part of the Mountains to Sound Greenway Trail that runs in the I-90 corridor from Seattle and over Lake Washington toward Issaquah and the mountains beyond.
Construction on the tunnel-bridge project began several months before the coronavirus hit and was shut down for a time by Covid protocols. Last fall, crews completed and opened the bicycle tunnel underneath a I-405/I-90 onramp. The bridge opened this week.
The project reconfigures the greenway trail so bicyclists pass over the intersection of Factoria Boulevard with an I-90 exit ramp and SE 36th Street. Previously, a trail under I-405 deposited bicyclists at the base of the Factoria/I-90 exit ramp. From there, they had to hope that right-turning motorists honored the WALK light and allowed them to proceed up the SE 36th Street hill toward Issaquah.
Which reminds me, that tunnel/bridge project also enables bicyclists to bypass the lower, steeper parts of that climb.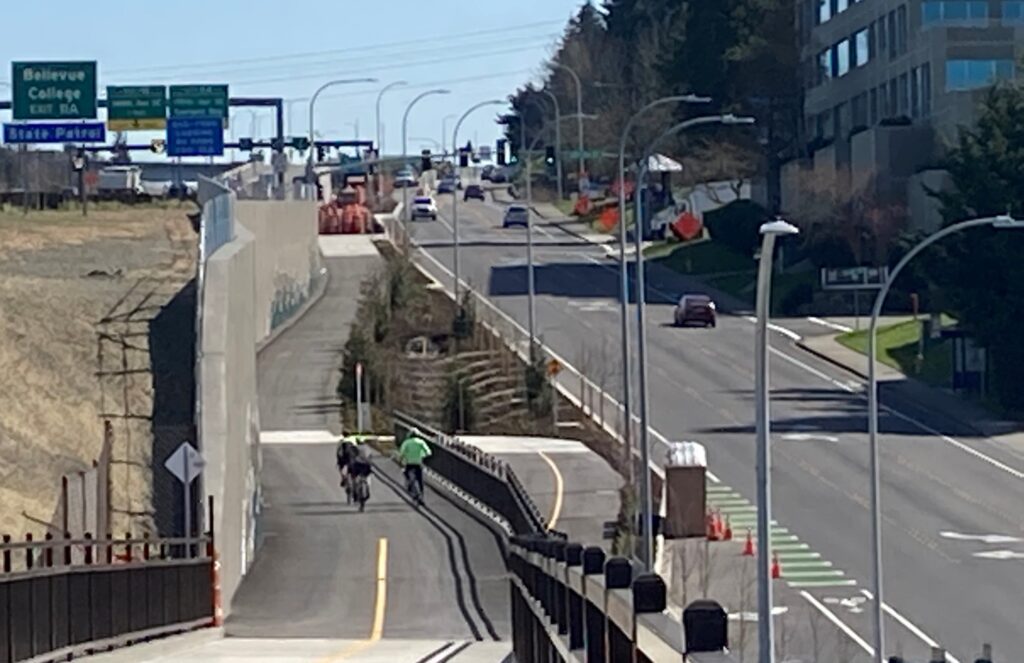 The trail ends at a wall of construction barrels at 132nd Avenue SE. Just beyond, construction is already underway on the next phase that carries the trail another 10 blocks to 142nd Avenue SE, which crosses I-90 to Bellevue College.
Currently, bicyclists heading east through Factoria must cross 132nd Street and continue in the bike lane. Long term plans call for extending the trail beyond 142nd Avenue to Lakemont Boulevard.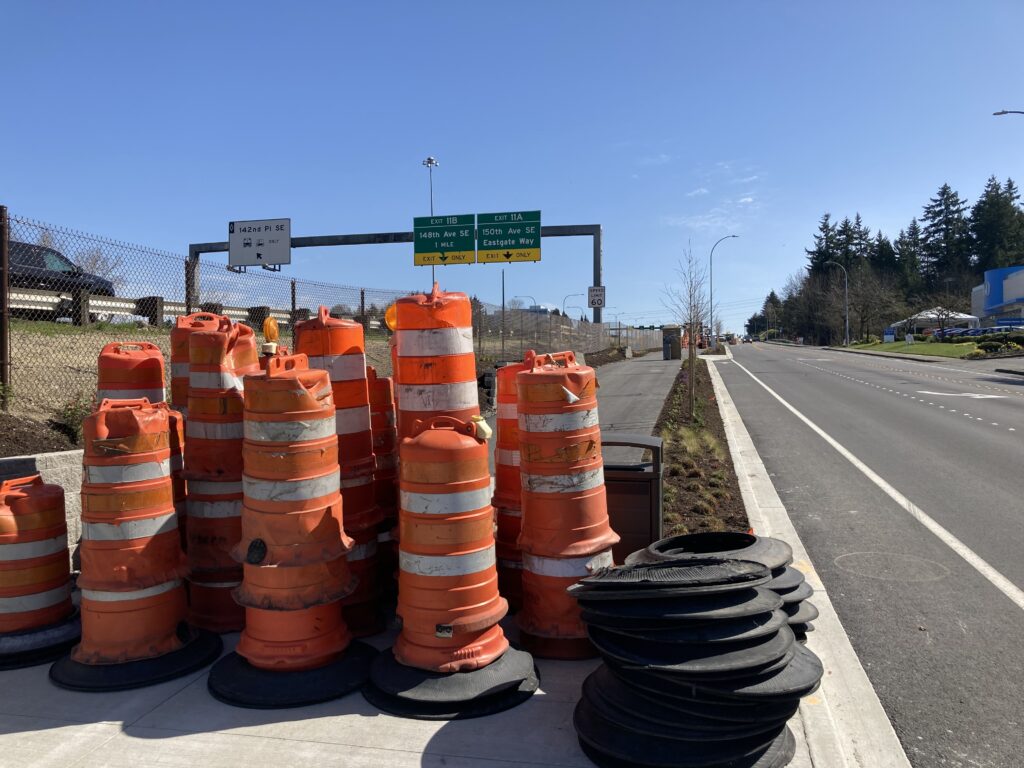 Credit the Mountains to Sound Greenway Trust for jump-starting the project after receiving a National Scenic Byways grant in 2011. Bellevue and the Puget Sound Regional Council provided more funding, and the state legislature provided construction funds. The project, which also benefits motorists exiting I-90, cost $21 million, according to a city news release.