The widening and asphalt-paving of the two remaining crushed rock segments on the East Lake Sammamish Trail begins June 1. The work means use of the 11-mile bicycle trail as a through-route between Redmond and Issaquah will be interrupted through late 2023.
King County Parks says the upgrades, with a wider trail and increased sight lines, will make for a safer trail for bicyclists. It will also create a fully paved bicycling route from Golden Gardens Park on Puget Sound to Issaquah at the foot of the Cascade Range — a distance of about 44 miles.
Beginning June 1, the county will begin work on a 1.75-mile segment between Southeast 33rd Street to the access driveway to Mint Grove. Termed South Sammamish B Phase 1, the target for finishing the job is December 2022. Meanwhile, a 1.85-mile segment from Mint Grove to Inglewood Hill Road, known as South Sammamish B Phase 2, will undergo similar upgrades beginning in the Fall 2021 to finish in December 2023.
When completed, the entire trail will have a 12-foot-wide paved surface. It also will feature 2-foot gravel shoulders and a 1-foot clear zone on both sides.
Reopening of the final segment in 2023 will mark the end of an 25-year saga to create a paved, off-road bicycle route from Redmond to Issaquah.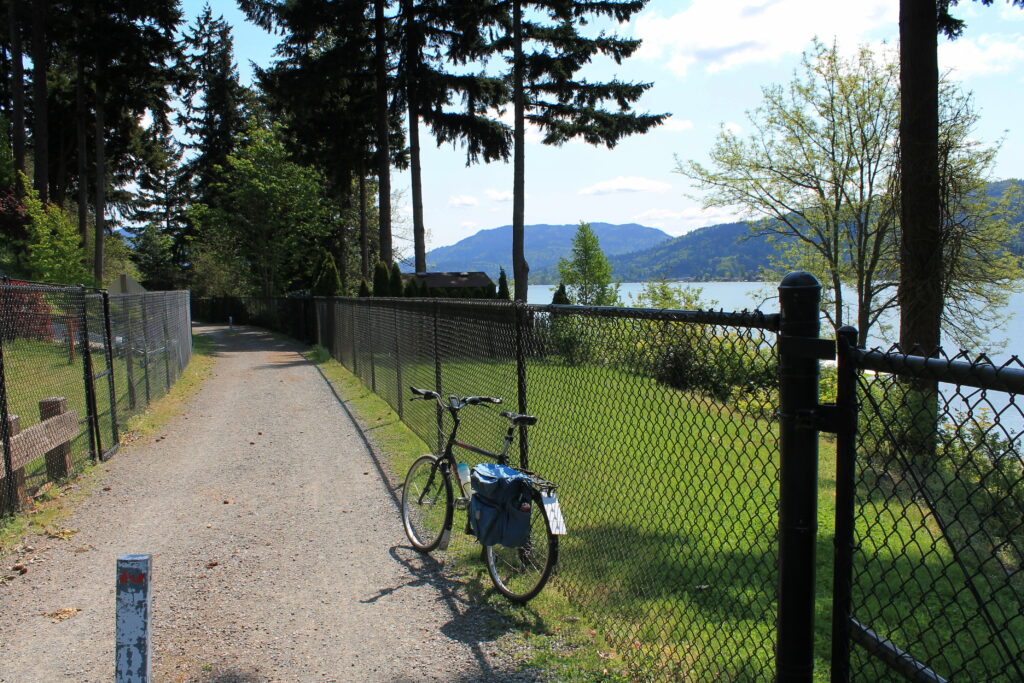 The county acquired the railroad corridor from the Burlington Northern Sante Fe Railway in 1998. After battling right-of-way neighbors in court, the county opened a narrow, crushed gravel path along the eastern shore of Lake Sammamish in 2006. The first paved section appeared in Redmond in 2011, and other paved segments followed. Over the years, some neighbors had encroached on the old railroad land, leading to delays for this final paving.
Reopening the final segment means bicyclists can take a paved route Seattle to Issaquah via the Burke-Gilman Trail, Sammamish River Trail, Marymoor Connector, and East Lake Sammamish Trail. In Issaquah, the route connects with the partially paved/gravel Issaquah-Preston Trail that heads into the Cascades, where it meets the Preston-Snoqualmie Trail that ends in a forested overlook about a mile from the town of Snoqualmie.
The work on the East Lake Sammamish Trail is the latest in a series of projects on the east Seattle suburbs. Projects include the paving and extension of EasTrail, aka East Rail Corridor, in Bellevue and Renton, as well as the bridge over Factoria Boulevard in Bellevue on the I-90 Trail, aka the Mountains to Sound Trail. Further east, the state is working to reopen the Beverly Bridge that spans the Columbia River on the Palouse to Cascade State Park Trail.